You can buy smart, connected home products to complement the rooms where you entertain guests or engage in much-needed relaxation, so why not invest in them for your workout space, too? These eight products will get you off to a good start in the quest to make your gym area more high-tech.
[1] Apple Watch Series 4
You can already depend on an Apple Watch to control your smart home, but Apple's newest Series 4 edition of the watch has many components that make the gadget a worthy addition to your smart gym.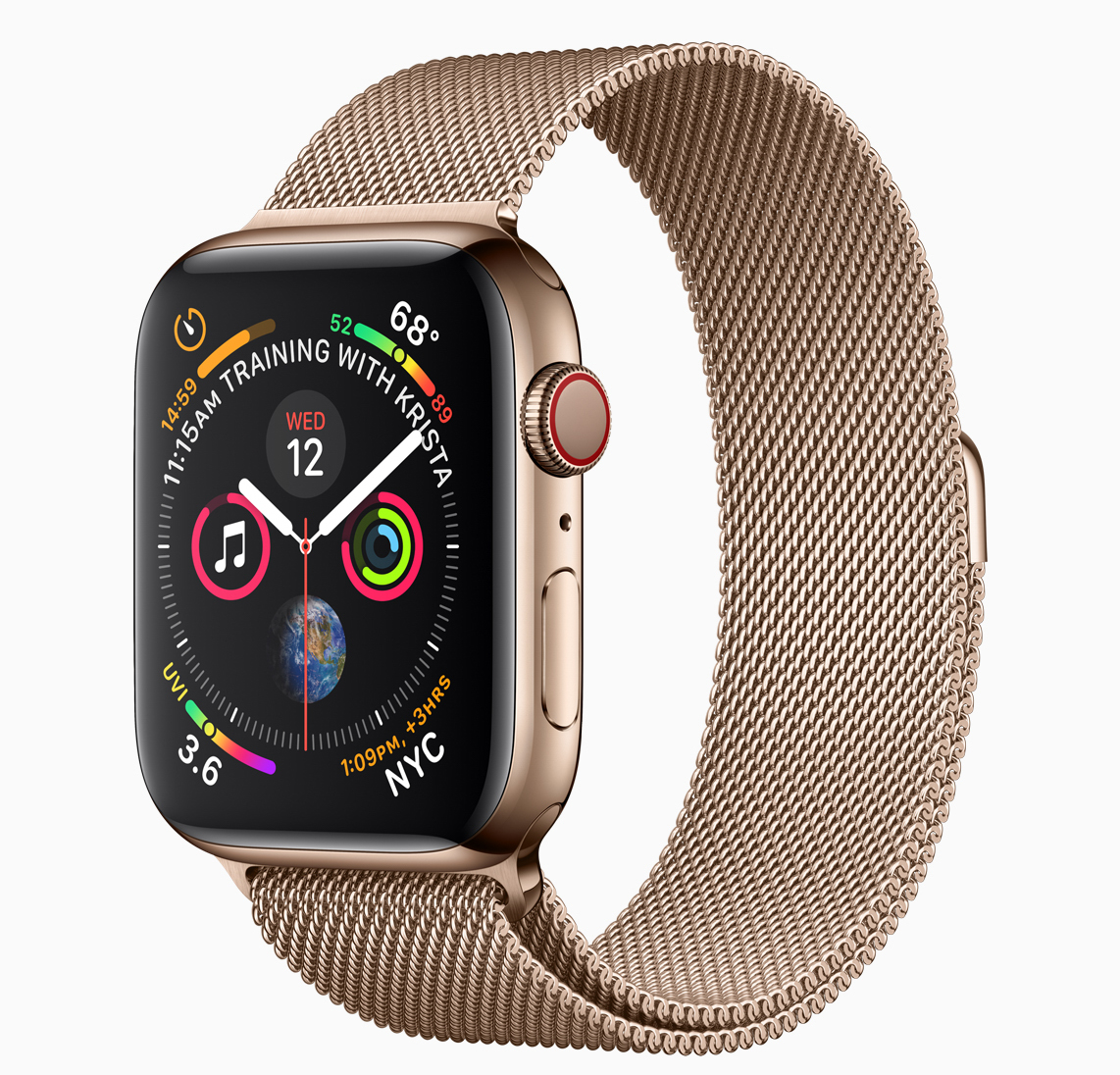 For example, the Apple Watch Series 4 has an ECG heart rate monitor, as well as automatic workout detection that can tell how you're training. Set goals, track metrics, and much more with the watch, which runs the new watchOS 5.
Moreover, this product, which starts at $399, can detect if you fall. Then, if necessary, it allows you to summon help or does so for you automatically if it recognizes a minute of motionlessness after a fall. 
[2] Life Fitness F1 Smart Treadmill
This product from Life Fitness fits the needs of modern fitness enthusiasts by offering a streamlined structure that folds up for easy storage. It even has wheels, so you can roll it into another room. Moreover, the Life Fitness F1 Smart Treadmill remembers your preferred speeds for walking, running, and jogging. The memory feature also accommodates up to three incline settings. 
This piece of equipment sells for $2199, but you may view it as a product that's more than worth the investment due to the way it could expand your at-home cardiovascular workout opportunities. 
[3] Withings Body+ Body Composition Wi-Fi Scale
You can use the Withings Body+ Body Composition Wi-Fi Scale to get guidance on whether your workout program produces the intended results. Up to 8 people can use it to get body composition analyses and personalized coaching. This $99.99 product has pregnancy and baby modes, and also syncs body-related statistics to your smartphone for quick reference. 
[4] Tacx Flow Smart Indoor Bike Trainer
Fed up with how inclement weather makes it unpleasant or impossible to train with your bike during the winter? Use the Tacx Flow Smart Indoor Bike Trainer (see image at the top of this page) to keep up your training routine no matter the conditions outside. You connect a bike to it, then the gadget's electro brake simulates the bicycling experience and enables rich interactive features while you are pedaling. 
For example, you can set this $369 trainer to make it seem like you're climbing a six-percent grade. Use the Tacx app to go through training sessions, or connect it to third-party apps, too. 
[5] Tangram Smart Rope
This high-tech jump rope goes far beyond the bare-bones ropes you played with as a child. It features LED lights that display fitness data as you move—even in dim environments. Plus, the Tangram Smart Rope connects to a free mobile app that tracks calories burned, workout times, and other statistics.
The pricing starts at $59.95 for the basic model, but you can splurge on options with chrome or gold-colored handles.
[6] Hexoskin Shirts and Sensors
People often wear heart rate monitors while working out, but wearables such as Hexoskin shirts and the accompanying Hexoskin Smart Device measure other things, such as your breathing rate, step count, cadence, and respiration volume. You can buy a starter kit for $499, and it includes a sensor and a compatible piece of clothing. Alternatively, you can purchase the garments and sensor separately. 
[7] Bowflex SelectTech 560 Dumbbells
Each Bowflex SelectTech 560 Dumbbell adjusts from 5 to 60 pounds, eliminating the need to clutter up your space with a whole rack of dumbbells. Also, Bluetooth connectivity combines with an app to track repetitions, weight, and sets. You can also watch the app to get advanced video coaching while using these $499 weights, too. 
[8] Skulpt Scanner
The Skulpt Scanner is a gadget that you hold on various parts of your body to measure the muscle-to-fat ratio of 24 different areas. The scanner can also give you an overall body fat percentage. Additionally, this $99 app and scanner package measures the relative strength and quality of 24 muscle groups.
Then, people can use that data to tailor their training and ensure they regimen targets the right muscles according to the identified areas of weakness. The app also gives a numerical score for each muscle group, helping to highlight those needing extra attention.
Make Your Workouts More Intelligent
These eight gadgets help you take your workouts to the next level by giving information about your progress, workout length, and other crucial metrics. If you love combining technology and fitness, these carefully engineered products have your preferences in mind. 
More About This Topic:
10 Smart Tech Tools for Devoted Dog Owners
10 Works with Nest gadgets that go easy on your budget
9 parenting tips to help kids use smart tech safely
5 smart ceiling fan options for a modern home
With smart security cameras, location is everything
More from Digitized House | Guide to the Connected Home