So Christmas Day 2017 has passed, but that smart-tech product you had your eye on did not materialize under your holiday tree. Hooray for gift cards, those safer-than-a-bitcoin alternate currencies that are burning a hole in your digital wallet. Here is a quick recap of the gifts we suggested in our 12 Days of Smart Gifts 2017 Series earlier in December. Surely, there is an item here worthy of parting with one or two of those remaining gift cards. We hope you enjoy your selections.
---
The cameras on our smartphones keep gaining in resolution and flexibility, but there is only so much manufacturers can do with optics given the extremely thin confines of the phone's shell. That's where the Moment line of smartphone accessory lenses enter the picture, with a series of DSLR-quality optics that include Macro, Superfish, Wide, and Tele lens options—all designed to attach to the Moment Photo Case or Battery Photo Case. Read more …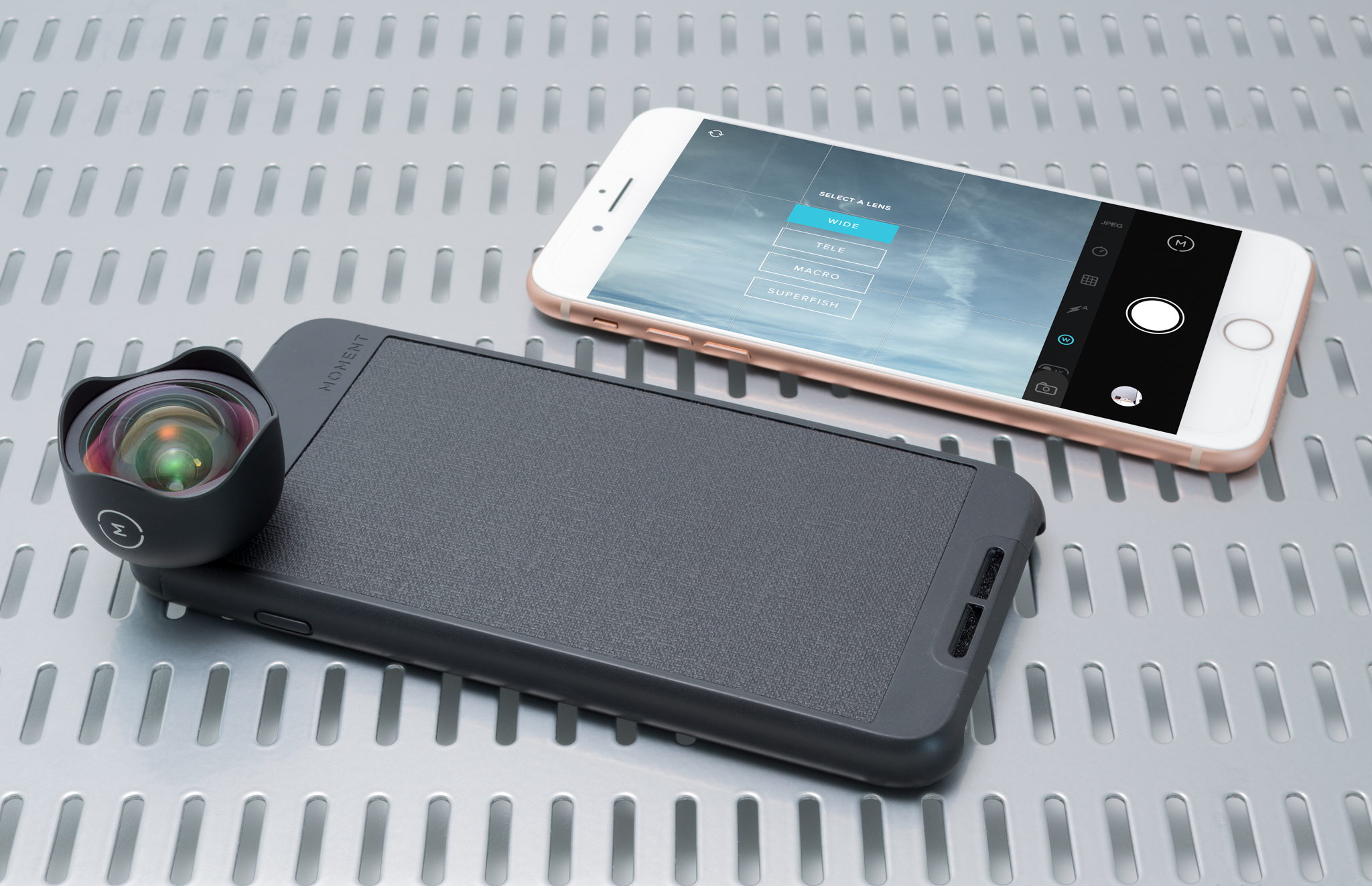 ---
It has been a year since Apple began shipping their AirPods—the Cupertino company's first wireless earbuds—yet the product is still on a back-order delivery schedule. As we write this just a few days before Christmas 2017, Apple is showing a January 10, 2018 delivery date if ordered from their website. What is it about these audio accessories that causes them to be in such apparent high demand? Read more …
[Advertisement]
---
The smart home would not be possible without its private wireless network, as nearly every accessory requires a unique IP address and a Wi-Fi connection. But those home-based networks can have dead spots and areas where bandwidth is less than optimal. Samsung has joined the parade of vendors striving to offer higher-power or meshed Wi-Fi products that are designed to improve the reliability and throughput of networks in every nook and cranny of the home, a significant upgrade over the typical Wi-Fi router. With their Samsung Connect Home Wi-Fi play, the company has upped the high-power and meshed network ante by also integrating their popular SmartThings smart-home hub technology into the system. Read more …
---
A common downside to the hi-tech accessories in our connected homes is their insatiable appetite for plug-in electrical power. And of course, wall outlets are never located where they are most needed, so extension cords, power strips, and surge protectors are the standard, often-inelegant solution. Looking to offer a design-centric alternative to home power distribution, Jasco has launched the Cordinate Décor line of tech-oriented extension cords, distinguished by their decorative woven fabric cords in a choice brown, gray, or mint pastels. Read more …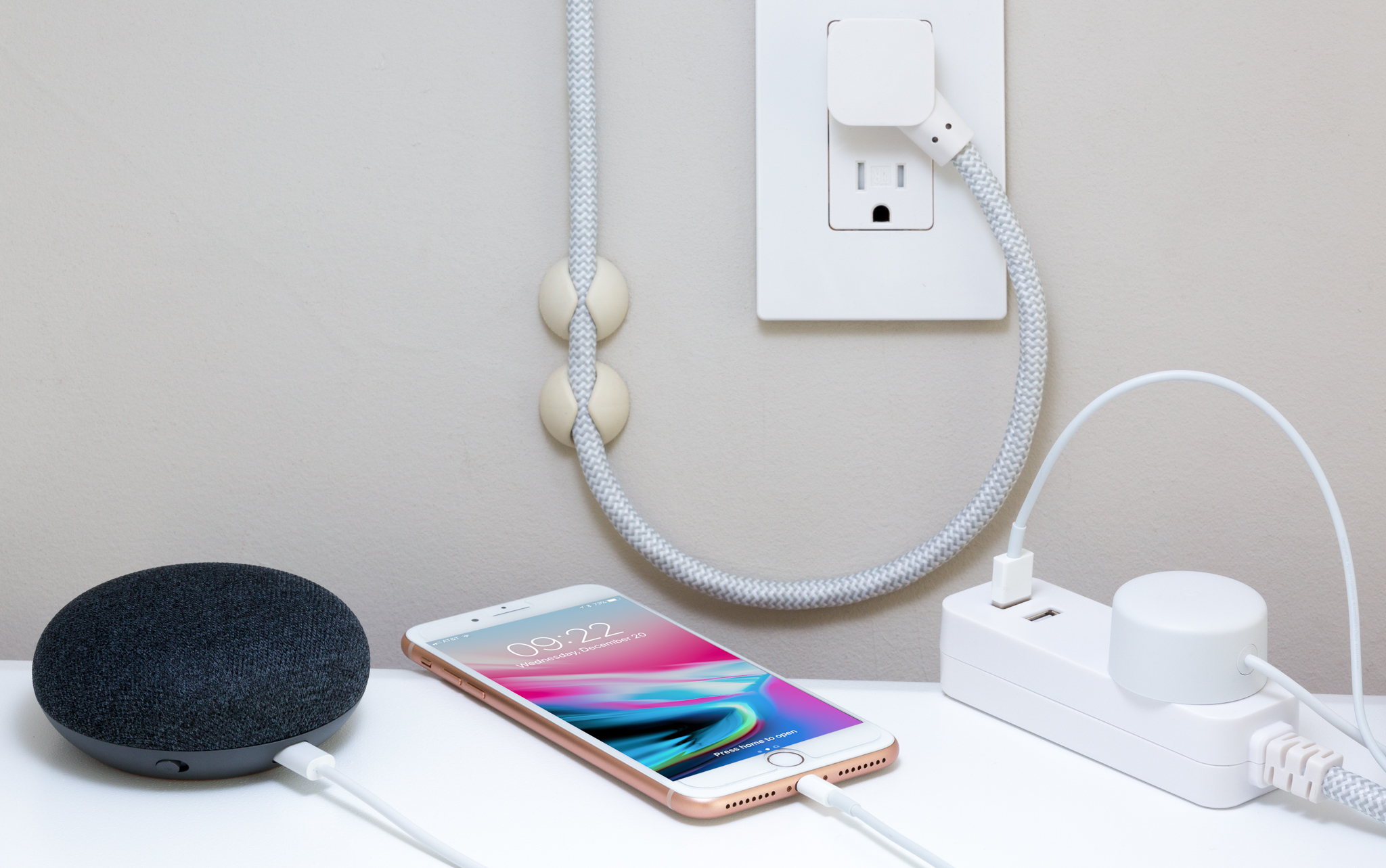 ---
There was a time when Clocky defined the evolving genre of smart alarm clocks. As the alarm clock on wheels that jumps off your nightstand and runs away beeping if you tap the snooze button, Clocky remains an innovative solution to waking up on time. But that was years ahead of the debut of the first Amazon Echo voice-activated speaker and the cloud-based Alexa digital assistant, a hands-free world where there are no buttons, merely voice commands between man and machine. So it was, ahem, just a matter of time before an Alexa-powered device was primed for its bedroom debut. Enter the Amazon Echo Spot, an über-smart clock modeled in the shape of a dual bisected sphere and graced with a circular 2.5-in. touchscreen. Read more …
---
For parents looking to purchase smart gifts for their children of ages 5 through 12 that are designed to educate as well as entertain, they need look no further than the Osmo Genius Kit. The kit works with an Apple iPad and transforms the tablet into a mobile hands-on learning lab, integrating the power of physical play pieces and paper with the advantages of digital feedback from the special Osmo game apps. The kit is available from the Osmo website at a special holiday price of $79. Read more …
---
Google's answer to the wildly popular Amazon Echo line of voice-activated speakers that have single-handedly elevated voice control into the consumer mainstream, the newly-released Google Home Mini and the original Google Home speaker (at a special holiday cost of $79) are well-groomed accessories for the connected home. Since the launch of the original Google Home speaker in late 2016, the chorus of supported services and accessories that can be controlled by the Google Assistant voice service have continued to grow and thrive, so this ecosystem has become a legitimate alternative to the universe of skills offered by the Amazon Echo and Alexa assistant. Read more …
---
We have used the Sonos multi-room audio system for years, and have continuously enjoyed its high audio fidelity and the expansive set of audio and music services available through a few taps in the Sonos app. But until recently, the system did not have voice activation controls, making it less desirable in today's connected home. Sonos addressed that chasm in its product line with the launch of the Sonos One, the company's first voice-controlled speaker with the Amazon Alexa assistant built in. As we wrote in our detailed analysis of new Sonos voice activation capabilities, playing music services over a Sonos One with the new-found Alexa features can be accomplished with simple English commands. Read more …
---
The Qi wireless charging standard recently got a huge boost as Apple embraced the technology and built it into the new iPhone 8, iPhone 8 Plus, and iPhone X smartphones. Apple plans to bring their Apple-branded AirPower QI charger to market in 2018, but consumers considering the purchase of a wireless charger for their Apple, Samsung, or other Qi-compatible products already have plenty of solid options available. And among the alternatives are several Qi chargers from international retail giant IKEA, where they offer tabletop chargers as well as furniture and lighting with the chargers built in. Read more …
---
When it comes to choosing energy-saving upgrades for your connected home, smart thermostats should be near the top of your list due to their potential for monthly paybacks in the form of reduced utility bills. And when you can buy an exceedingly smart thermostat for significantly less than the $249 cost commanded by the industry-standard Nest Learning Thermostat, the deal is even sweeter—particularly if you are considering one as a gift. Therein lies the appeal with the $169 Nest Thermostat E, a device that gives up virtually nothing in smarts and functionality compared to its more expensive big brother. Read more …
---
Do you have a recipient on your holiday shopping list who desires to lock or unlock their front door by using the Apple Siri voice assistant? Then the Yale Assure Lock SL with the iM1 Network Module for HomeKit integration could be just the right gifting ticket to usher them closer to a connected home lifestyle. Built around the Yale Assure key-free smart lock platform and designed as a direct retrofit to the common deadbolt, the Assure Lock SL is fitted with one of the most compact exterior lock housings available and features a weatherproof touchpad for easy and secure unlocking by tapping a PIN code. And when the optional iM1 HomeKit network module is snapped into the interior housing, the lock becomes a fully participating player in the Apple HomeKit smart-home ecosystem. Read more …
---
Smart cities are all the rage, and for good reason: There can be considerable upside to designing new cities that are built from the ground up to be highly smart and highly livable from nearly every perspective. Of course, most of us are not urban planners. But thanks to the folks at ArcKit, anyone can begin snapping together their unique vision of a smart city by simply cracking open an ArcKit Masterplan model kit. We have long been fans of the line of architectural model kits from this small Ireland-based company, headed up by architect and visionary Damien Murtagh. Suitable for use by budding, would-be building and city designers of all ages as well as the ranks of professional architects, architectural students, builders, and designers, these kits of snap-together plastic components are molded to scale and can be universally assembled into structures and cities of all shapes and sizes. Read more …
More about this topic:
Digitized House: 12 Days of Smart Gifts 2017 series
Digitized House Magazine
Today's Connected Home Bestsellers on Amazon
Last update on 2019-06-15 / Affiliate links and images from Amazon Product Advertising API.