Discovering the ideal kitchen cabinets is like trying to find a white glove in the snow. It's not the easiest thing in the world to accomplish. This decision can be downright difficult at times if you aren't prepared to make a choice, but making the right decisions can bring you great kitchen cabinet details that add function and pizzazz.
Making this choice comes down to picking kitchen cabinets that you find functional yet aesthetically pleasing. They not only have to look amazing in your kitchen, but they need to have the right amount of drawers, cabinets, and storage space.
In some cases, you may find gorgeous cabinets but they aren't functional enough. At other times, you may find fully functional cabinets that are unappealing at best and downright ugly at worst.
Do you intend to sell your home in the future? If so, you may consider picking cabinets that will add additional value to your resale bottom line.
That's why this is such an important decision. You have much to ponder before making your final choice. We have suggestions here to make this process a lot easier.
1. Reinvigorate Your Old Kitchen Cabinets
Walk into your kitchen and look at the cabinets and notice how you feel. Do you immediately think they need to be replaced? If so, you're like most people in this regard.
On the other hand, some people know that they really don't need brand-new kitchen cabinets. Their existing cabinets are in excellent condition but could benefit from an aesthetic upgrade. So you may want to repaint and refinish them as an alternative option.
For those choosing to DIY upgrade their kitchen cabinets, you'll love the way they look when all is said and done and you'll get to save a few dollars at the same time. You'll wow yourself along with friends and family and feel really good about making this upgrade on your own.
Believe it or not, repainting or refinishing your cabinets isn't the hardest thing to accomplish. Most people can handle it even if they've never worked on this kind of task before.
Visit your local hardware or home improvement store to buy new paint or stain. Look at the colors and shades available, then find the best to match your kitchen so it fits with your overall decor and aesthetic. And then begin the process of refinishing them yourself. But if that all sounds scary, you can always hire someone to do it for you.
2. Choose Open Shelving and/or Glass Door Kitchen Cabinets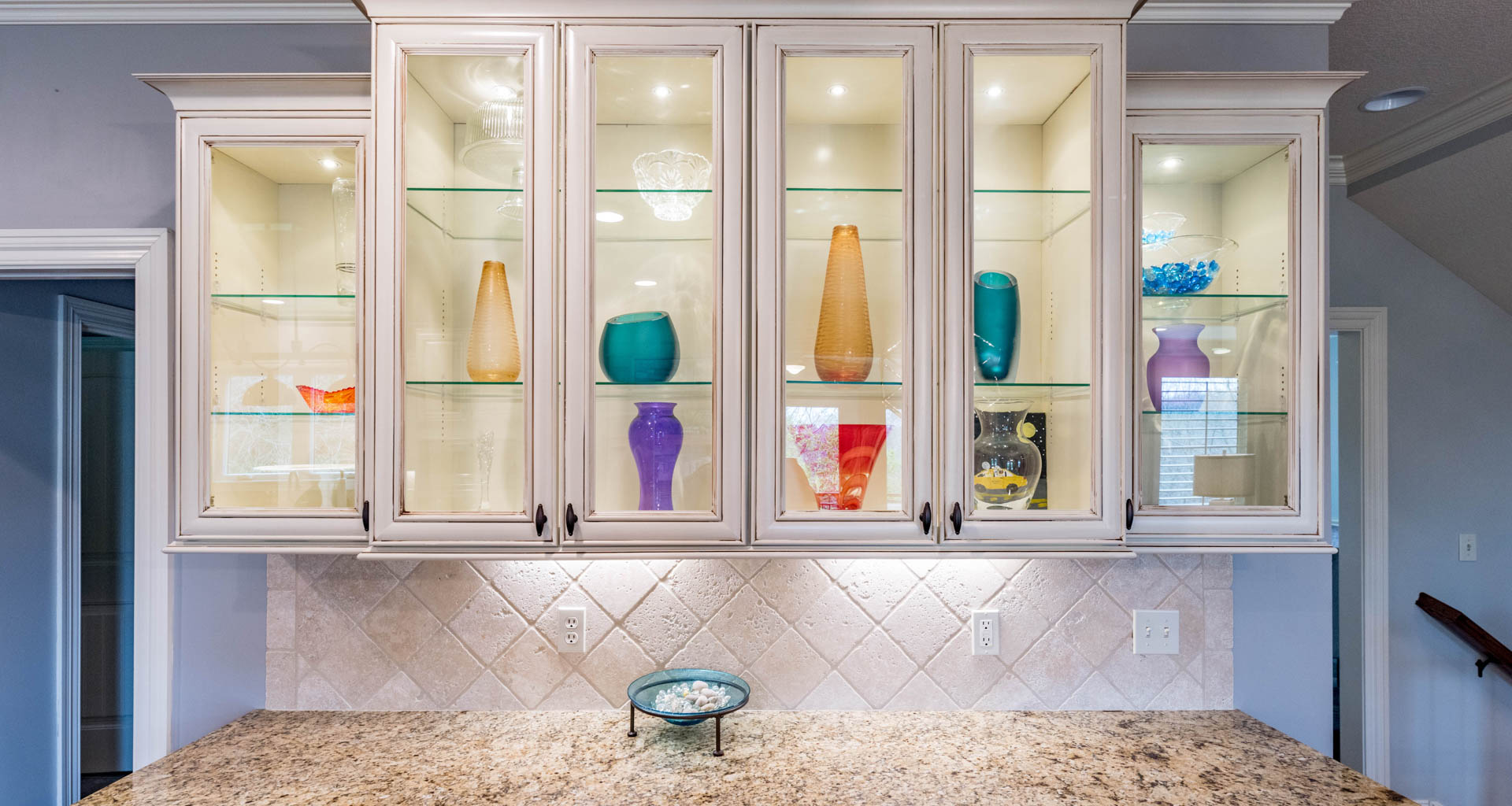 Wouldn't you love it if your guests actually noticed your brand-new kitchen cabinets? You can wow them if you install open shelving and cabinets with glass doors.
For the most part, people tend to stick with tried-and-true wooden slab cabinets designs when buying new ones for their kitchen. This is a great choice, but it's also the expected and normal choice. If you're looking for that cabinets that pop, then you need to kick things up a notch.
The great thing about glass doors and open shelving is the ability to display your favorite pieces. You can showcase your best dishes, silverware, pots and pans, and more in this way. And by adding LED accent lighting, you can make even more of a statement.
Open shelving as well as glass doors are attention grabbers to say the least. They can look amazing and are quite attractive. Another upside: Your home can feel much bigger by using them.
3. Consider Cabinet Retrofitting for Added Pizzazz and Style
If your old kitchen cabinets just won't cut it anymore, consider an end-to-end retrofitting. By working with professionals, your new kitchen cabinet installation can be designed and customized to your liking in myriad ways.
As you retrofit your cabinets, consider not only the layout of the cabinets but also the addition of accessories. Some top accessories include slide-out drawers (which are ideal for heavy items like dinnerware), slide-out shelving, cork boards, corner organizers, and more. Even small items like drawer pulls and handles can make a world of difference.
Hanger racks above the countertops are also an ideal option for your prized pans and pots, making them instantly accessible while cooking. This also saves room inside your new cabinets for other items, a great option when your space is limited.
Bottom Line
Wowing your friends and family with a kitchen cabinet upgrade may seem like a pipe dream to some of you. But now that you've read our tips and suggestions above, you realize that it's more than possible.
You can repaint or refinish your cabinets to make them pop. You can choose glass shelving or open cabinets that are attractive, fun, and definitely functional. Or you can go all-in and retrofit them to provide aesthetically pleasing appeal.
No matter which way you go, your friends and family will take notice and you'll feel great about the way it makes you feel every time you step foot into the room. That makes it well worth the effort and cost.
More About This Topic: