If you are one of the many who have decided to buy their first home, you may be a bit overwhelmed with everything that goes into it. Certainly, it can be exciting to have a place that you can truly make your own, but where do you begin with customizing and decorating? Today we're going to share five modern home design trends that you need to be aware of, plus some tips and tricks to help you pull them off.
1. Bright Colors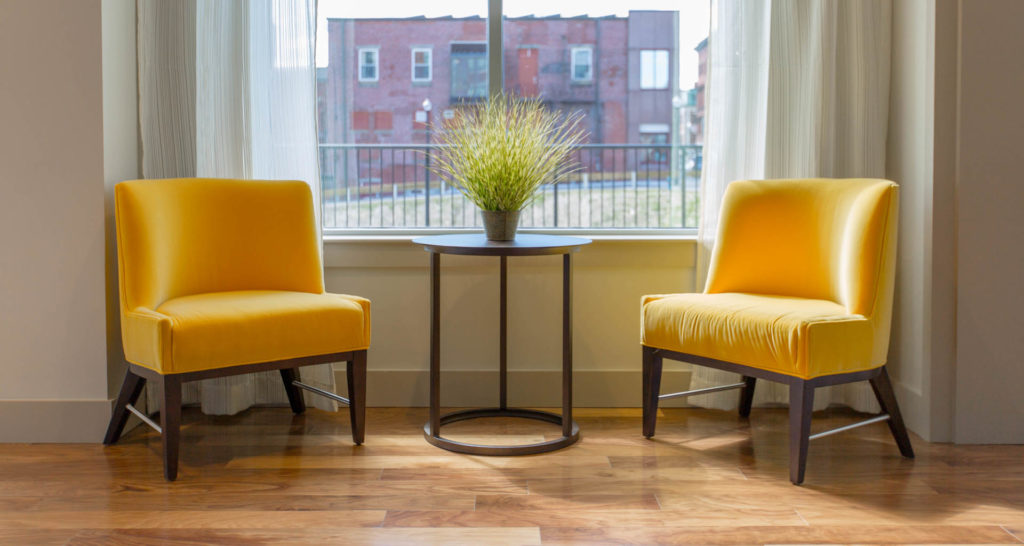 In the past, it has been the norm to have one accent wall per room, an ideal way to add color to a home. Nowadays, these "house rules" are not so strict, so there are several other ways to add splashes of color throughout your house without it looking tacky.
You can do this by buying brightly colored furniture, having a unique colored countertop, creating a beautiful pattern floor design with some tile, and more. 
Looking for something easy to do? Select a colorful rug with a variety of bright hues, a sure way to make a design statement and add warmth to your new home at the same time.
2. Geometric Patterns
When it comes to current home design, minimalism and mid-century modern features are more popular than ever. One of the easiest ways to incorporate these types of styles in your home is by adding geometric patterns throughout.
How you add geometric pattern designs into your home will vary from room to room. For your kitchen, the easiest way to do this is by adding geometric tiles, geometric fridge magnets, or kitchen towels that have bold designs on them. 
When thinking about your living room, you can add this type of style by using pillows, rugs, wall art, and small trinkets on shelves or entertainment centers. Wallpapers are also making a comeback and can be used for dramatic effect.
3. Funky Fabrics
Surprising to many, using fun fabrics can be a way to add a bit of modern design to your home. One of the more popular fabric options that people are using this year is velvet. Velvet can add texture and warmth to just about any room you put it in. This can be done by having velvet furniture in a room, a velvet throw blanket, and more.
Velvet also carries a luxury factor with and it's pleasing to the touch. If velvet isn't your fabric of choice, you can do this with other types of fabric such as silk, leather, or corduroy.
4. Creative DIY Projects
One of the more fun trends taking over modern home design is adding a bit of yourself to your home. People are doing this by creating a DIY project and displaying it in their home and getting in touch with their creative side,
This can be accomplished in myriad ways, whether you want  to create a piece of wall art, a handmade shelf, or even a stained glass window design. And since you will no doubt need to get furniture for your new space, refinishing an old piece instead of buying new can be a great option for personalization.
5. Don't Be Afraid of the Dark
When people think of designing their homes, they usually don't think of the color black. When it comes to modern home design, black is a staple color. It is bold, minimalistic, and classic. While it's more common for people to use black accent pieces, we're going to challenge you to think bigger than that.
That being said, try adding in a large piece of black furniture such as a bookshelf or kitchen island. If you're feeling brave, you could even paint a wall or multiple walls black. Doing this will give the space more depth, focus, and make your home stand out. When you go from dark-colored items to bold-colored items, you're creating contrast and layers throughout each room.
Final Thoughts on Design
While not all of these trends may be for you, it can be helpful to try something out of your comfort zone when it comes to home decor designs in your new space. This is your home and it's all up to you to make it yours. 
You might even surprise yourself by adding a splash of color, taking advantage of different types of fabrics, adding geometric patterns, or even tapping into previously unused creative skills.
More About This Topic: