Nest smart thermostats may be a svelte package of brains, software brawn, and eye candy for your home's walls. But can they survive a date with a zero net energy, triple-zone home?
The Digitized.House lab home was designed from the ground up to be nearly all-electric, with the expectation that we would offset the bulk of that electrical usage with rooftop-mounted solar photovoltaics. The only exception to that effectively zero-combustion posture was in the kitchen, where the cooktop was fueled by propane as the gourmet-chef-in-residence was not willing to live with one of the new induction cooktops or a more conventional electric cooktop.
As the home was architected, everything else in the house was designed to be 100-percent electrically powered, including the remainder of the major appliances and all mechanical systems: the aerobic waste treatment system, the rainwater harvesting and potable water treatment system, the water heating and recirculation system, and of course the entire HVAC and fresh-air intake system.
In this part of the U.S.—central Texas—where maximum daytime summer temperatures can often exceed 100℉ for days in a stretch, many moderately-sized, conventionally-constructed homes are equipped with 2 or 3 (or more, in the case of very large homes) independently operating central HVAC systems. Cooling in each of these systems is normally delivered through an electrically-powered air conditioner/evaporator while heating is provided by an integrated, natural gas-powered furnace.
This type of arrangement effectively results in a zoned home, as there is one thermostat installed for every independent HVAC system. By contrast, building science experts often prescribe what is referred to as a zoned system, which typically consists of a single HVAC system designed to be managed by multiple thermostats controlling the delivery of conditioned air into multiple zones.
In the case of our lab house, where mechanical components were selected to minimize energy consumption while maximizing quality of life for the home's occupants, our designers followed the zoned system approach. In this two-story home's mechanical room, we installed a single ClimateMaster Tranquility ground-source geothermal heat pump system to meet all cooling and heating needs.
A single, centrally-located Rheem high-efficiency air handler and a series of Aprilaire mechanical dampers were installed to create a triple-zoned system, enabling the occupants to fine-tune the delivery of cool or warm air as needed. Due to the tight building envelope, an additional Aprilaire mechanical damper was integrated into the system to regulate the infusion of fresh, filtered air into the air handler and throughout the home on a smart, scheduled basis 7×24.
As the home was buttoned up and the systems came online in early 2013 for initial blower-door testing runs, conventional programmable thermostats were installed in each of the 3 zones. Functionally, these seemed to work acceptably, but were quite difficult to program through their wall-mounted LCD panel interfaces. Then we experienced a momentary power outage. In that instant, all 3 thermostats reset themselves to their factory default configurations; they apparently had no onboard backup batteries to retain their settings. So long, schedules.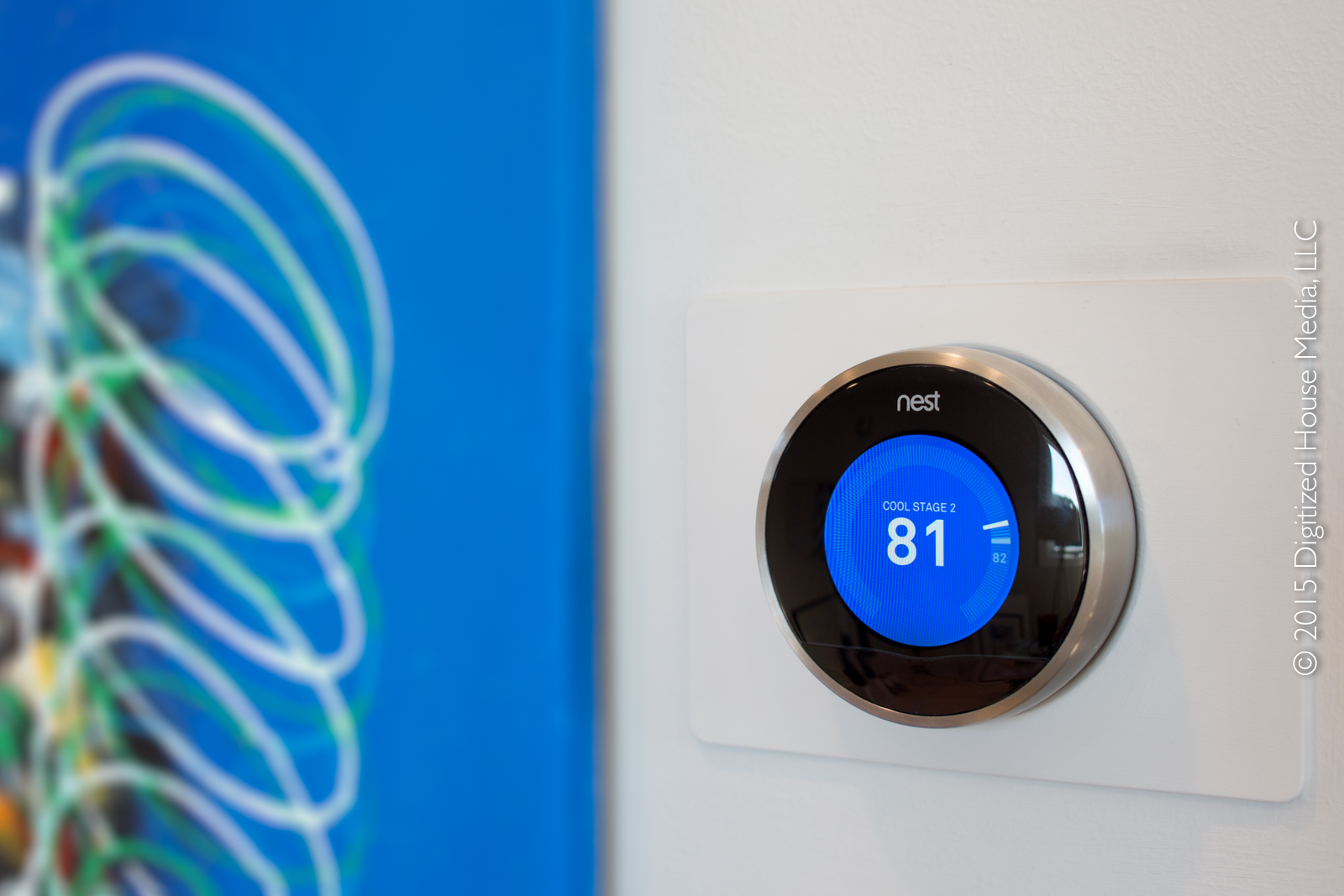 At the time we were contemplating a replacement product, smart thermostats were entering the residential market, with Nest leading the charge via their game-changing platform. As we discussed this potential retrofit with our builder's HVAC experts, they informed us they had previously steered away from Nest as they found the 1st generation thermostat was not compatible with their typical zoned system scenario. However, Nest had just upgraded their hardware platform to the 2nd generation.
So a couple of important questions were floated. First, would these 2nd-generation Nests work in a multiple-zone installation? And secondly, would there be a wrinkle in trying to configure the installation in a less-than-standard solo ground-source geothermal heat pump configuration? Checking with the Nest support team produced encouraging affirmative responses on both counts.
Our installation, then, consisted of a trio of the 2nd generation Nests—one each on the walls in the downstairs, upstairs, and master bedroom zones—and after an hour or so our installer had all three communicating seamlessly with the solo heat pump, each other, and the Nest cloud. In this configuration, a hard-wired zone controller box from ClimateMaster managed the digital bit arbitrations among the respective comfort zones, each equipped with mechanical dampers standing guard over dedicated sections of ductwork.
How well does this single ground-source geothermal heat pump and triple-zoned setup work with the Nests? Splendidly. Living in a near-zero net energy (ZNE) house, one must be ever vigilant about energy consumption, and the Nests go a long way toward minimizing kilowatts consumed for cooling, heating, and circulating fresh air throughout the house based on how the occupants are typically using or not using it.
For example, the Auto-Away feature, where the Nests automatically set themselves back when they sense the house is unoccupied, is a notable energy saver. And the now-standard ability to remotely adjust the Nests anytime, anywhere through the app is much appreciated, particularly on those days when life throws you a curve.
While Nest likes to tout the sophistication of their thermostats to auto-program themselves based on nothing more than the comings, goings, and adjustments made by the home's occupants, we found that less valuable than the ability to easily click, drag, copy, and paste in the Nest smartphone or tablet app to tweak schedules in the 3 zones we have.
Here in this home, getting to a state of effective zoning is so crucial in keeping to our near-ZNE goals and most importantly, ensuring the delivery of comfortably-conditioned and healthy air into the respective zones only when and if it is needed. And on those 100℉+ summer days in Texas where cooling is king, as well as on other occasions year-round where the home's zones are calling for conditioned air, the Nests do their part to deliver admirably on those goals.
More about this home:
Architect: Danze & Davis Architects – Austin, Texas USA
Builder: Native – Austin, Texas USA