The WeMo smart-home automation ecosystem has been expanding steadily with more supported accessories from parent company Belkin as well as from third-party companies, but to date has not offered the benefit of integration with heating and cooling systems. With a recent upgrade to version 1.15 of the app, WeMo has taken a giant step toward becoming a more formidable force in today's smart home. And that is largely due to the addition of very smooth integrations with the popular Nest Learning Thermostat through the Works with Nest program.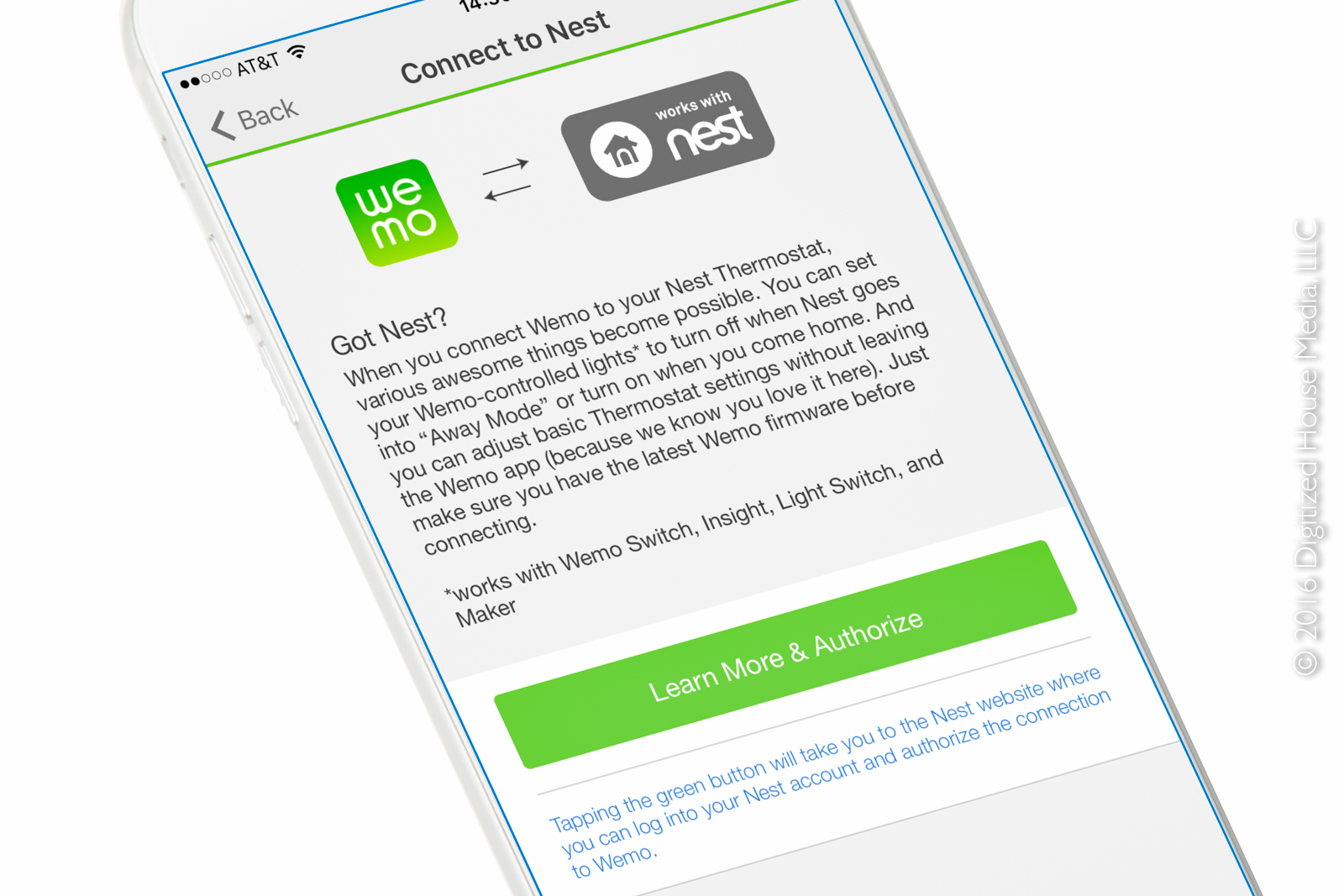 WeMo is a hub-less home automation setup, meaning the system does not require the presence of a dedicated home automation hub. In contrast to the competing Samsung SmartThings or Wink systems—which require the installation of one or more dedicated hardware hubs on the private home network plus a corresponding smartphone app—WeMo requires only the WeMo app and a minimum of one WeMo-compatible product in order to function. In that regard, the WeMo operational model is very similar to that of the software-based Apple HomeKit environment. Unfortunately, WeMo accessories cannot be integrated with Apple HomeKit, though that could be subject to change in the future.
Belkin offers a number of native WeMo-branded automation accessories, including the wall-pluggable WeMo Switch and Insight Switch, the in-wall Light Switch, the versatile Maker, and NetCam WiFi cameras. In addition to the integration with Nest, the list of supported products includes offerings from several other companies, including the Crock-Pot slow cooker and Mr. Coffee coffeemaker from Jarden Consumer Solutions, Lightify lighting solutions from Osram Sylvania, and others. WeMo accessories can also be controlled by Amazon Alexa voice commands through the Amazon Echo and Amazon Dot products, and scripted for robotic actions through the If This Then That (IFTTT) home automation website and app.
A basic WeMo automation setup
The setup of a basic WeMo home automation system is very straightforward, and consists of first downloading the WeMo app from the Apple App Store for iOS devices or the Google Play store for Android devices, followed by plugging in or installing a supported WeMo accessory, and then finally configuring the accessory on the home WiFi network through the app.
Once setup is completed, the accessory can then be controlled directly through gestures in the WeMo app or programmatically through the setting of in-app rules—user-configurable settings for triggering actions based on time of day, day of week, motion detection, and other factors.
Through the Remote Access feature, WeMo accessories can be controlled by authorized mobile devices, both within the secure local home network as well as remote locations outside of the home. This is enabled through secure communications between the smartphone app and the WeMo Remote Cloud Server. A Forget and Disable button in the app facilitates revoking access to Remote Access services for a specific mobile device. The WeMo app is also designed to automatically produce notifications in the event an accessory requires a firmware update, which can typically be accomplished by simply acknowledging the notification event.
A test bed for WeMo and Nest integration
We have a number of WeMo products integrated into the testing infrastructure of our smart-home labs home, including the WeMo Insight Switch and WeMo Maker. In the case of the Insight Switch—a WiFi-enabled device that is able to remotely turn off or on any appliance, electronics, or lighting fixture plugged into its single electrical outlet as well as capture real-time and cumulative energy consumption data—we configured it to control a floor lamp that was fitted with a pair of LED lamps. And in the case of the WeMo Maker—a flexible, WiFi-enabled device designed to automate control of a single low-voltage device or sensor—we wired and configured one to control the opening and closing of a garage door.
For the Nest component of the testing, we utilized our existing trio of second-generation Nest Learning Thermostats we employ to control our energy-efficient, ground-source geothermal heat pump heating and cooling system. The Nest thermostats were configured on the same secure private WiFi network as the WeMo accessories, and were also connected to the Nest cloud through a standard Nest account.
In order to authorize integration with Nest, we selected the Connect to Nest menu option in WeMo settings, and then provided our Nest account credentials when requested. Once that was completed, all 3 of our Nest thermostats appeared in the WeMo home screen.
Working with Works with Nest 
The Works with Nest integration for WeMo is currently limited to the Nest Learning Thermostat, so, for example, any Nest Protect smoke detectors in the home will not be accessible or visible from WeMo. But the existing integration experience is very well done, functional, and quite useful.
First and foremost, each Nest thermostat can be individually controlled within the WeMo app, including adjusting the temperature, selecting the mode (heat, cool, heat/cool or off), and setting the Home or Away status. The app also displays the current temperature and set point, the Nest Sense icon (for example, display of the Nest Leaf when the thermostat is in energy-saving mode), and humidity reading.
This integration works seamlessly, and we can envision homeowners with automation setups consisting primarily of WeMo-compatible accessories and Nest thermostats choosing to forego the Nest app and using WeMo exclusively for day-to-day control tasks. Of course, the native Nest app or the Nest website would still be required for adjusting Nest schedules and deeper configuration settings, but we find these functions are accessed quite infrequently after the Nests have been configured and progress through their initial Auto-Schedule period.
But the more interesting aspect of the integration from a home automation and energy-conservation perspective is the ability to have WeMo-controlled lights and devices turn on or off based on the Home or Away status of a Nest thermostat. This feature will work with the Wemo Insight Switch, Light Switch, Maker, and Switch.
In order to facilitate this aspect of the testing, we set a WeMo rule to turn off the floor lamp connected to our WeMo Insight Switch when the Nest thermostat was placed in Away mode. Then, when we manually set the thermostat to Away mode—by selecting Away on the Nest thermostat itself, in the native Nest app, or from within the WeMo app—the floor lamp immediately switched off. Additionally, this rule will run whenever the Nest thermostat automatically goes into Away mode through the Nest Home/Away Assist or Auto-Away features.
Conversely, we set another WeMo rule to switch on the same floor lamp when a Nest thermostat was placed in Home mode—either manually through selecting the mode, or automatically through the detected arrival of one of the home's occupants when Nest Home/Away Assist is active. In this case, an arrival event can be detected through the presence of an authorized smartphone user as configured in the Nest app. This rule also worked without fail in our testing. You can read much more about how the Nest Home/Away Assist or Auto-Away features are designed work in this article on the Nest support website.
Taking the home automation plunge with WeMo
For homeowners considering taking steps toward turning their dwelling into a smart home, WeMo offers a well-integrated set of accessory options that are quite straightforward to set up, simple to automate with point-and-click rules, and function smoothly and reliably. When the WeMo ecosystem is extended through the integration of one or more Nest Learning Thermostats, the resulting system takes a large step forward in potential convenience and energy savings.
More info about this topic:
Nest Learning Thermostat website
Affiliate Disclosure: As an Amazon Associate, Digitized House may earn a commission from qualifying purchases made through links, ads, or buttons, on this page. See our full Affiliate Link, Sponsorship, and Ad Policy.
Today's Connected Home Bestsellers on Amazon
Last update on 2019-03-20 / Affiliate links and images from Amazon Product Advertising API.