Kohler Company recently expanded its smart home portfolio with the Kohler H2Wise+ water monitor, a system designed to surveil a whole-home water network and alert homeowners instantly if a leak is detected. What's more, the system is powered by the proven Phyn technology, and can automatically shut off the water main to prevent major water damage.
How well does the system work? We spent 40 days living with the Kohler H2Wise+ in our new Digitized House Smart Home to find out. After consuming 3,748 gallons of water and incurring 4,295 individual water events, our in-depth Kohler H2Wise+ review follows.
Kohler H2Wise+ Review: Powered by Phyn, Yet Differentiated
At first glance, Kohler H2Wise+ appears to be a clone of Phyn Plus, the second generation of the water monitor and automated shut-off device pioneered by Phyn—the smart water start-up formed by electronics maker Belkin and plumbing systems manufacturer Uponor.
However, beyond the all-white aluminum housing of H2Wise+ versus the black housing of Phyn Plus, there are some important distinctions between the two products. We spoke with Kohler Senior Product Manager Huston Sprang to understand what's different.
"H2Wise+ integrates seamlessly into the Kohler Konnect app," Sprang told us, "allowing Konnect users to access a deeper level of water monitoring accuracy based on Konnect's built-in knowledge of Kohler product profiles."
The product profiles Sprang mentions are important to note here. The Phyn technology uses pressure wave monitoring technology, enabling measurement of minute changes in water pressure 240 times per second. This facilitates discerning the unique signature of each fixture type on the water network, measuring precise water consumption metrics by device category, and enabling the capability to generate alerts and water-saving actions whenever changes in those signatures indicate a small leak or a broken pipe.
In the case of H2Wise+, its onboard monitoring algorithms already understand the unique signature of many Kohler fixtures, leading to more accurate monitoring out of the box and more precise categorization of devices in the Kohler Konnect app. So, homeowners with Kohler plumbing fixtures in their homes may derive greater benefit from an H2Wise+ installation in lieu of installing Phyn Plus.
Furthermore, due to the fact H2Wise+ is fully integrated with the Kohler Konnect app, it offers one-stop access to other Kohler Smart Home products, including toilets, bidets, showers, bath tubs, kitchen faucets, and more.
"Kohler is dedicated to providing smart environments that help the consumers to care for themselves and the ones they love," said Sprang. "Water-smart is an integral part of Kohler Smart Home offerings. H2Wise+ utilizes this proprietary water sensing technology combined with artificial intelligence to provide unparalleled home water use insights. It gives the consumer the tools to address issues before they start."
Kohler H2Wise+ Review: Installation
Kohler recommends a plumbing professional handle the installation of H2Wise+, since it involves cutting into the main water line and the use of some specific brass fittings. That's good advice, and in our case we tapped into the Kohler Parter Network, a nationwide network of certified plumbing professionals. The plumber that installed our system was dispatched from Austin, Texas-based Clarke Kent Plumbing, and the individual was intimately familiar with the installation and configuration of Kohler's high-end smart plumbing systems.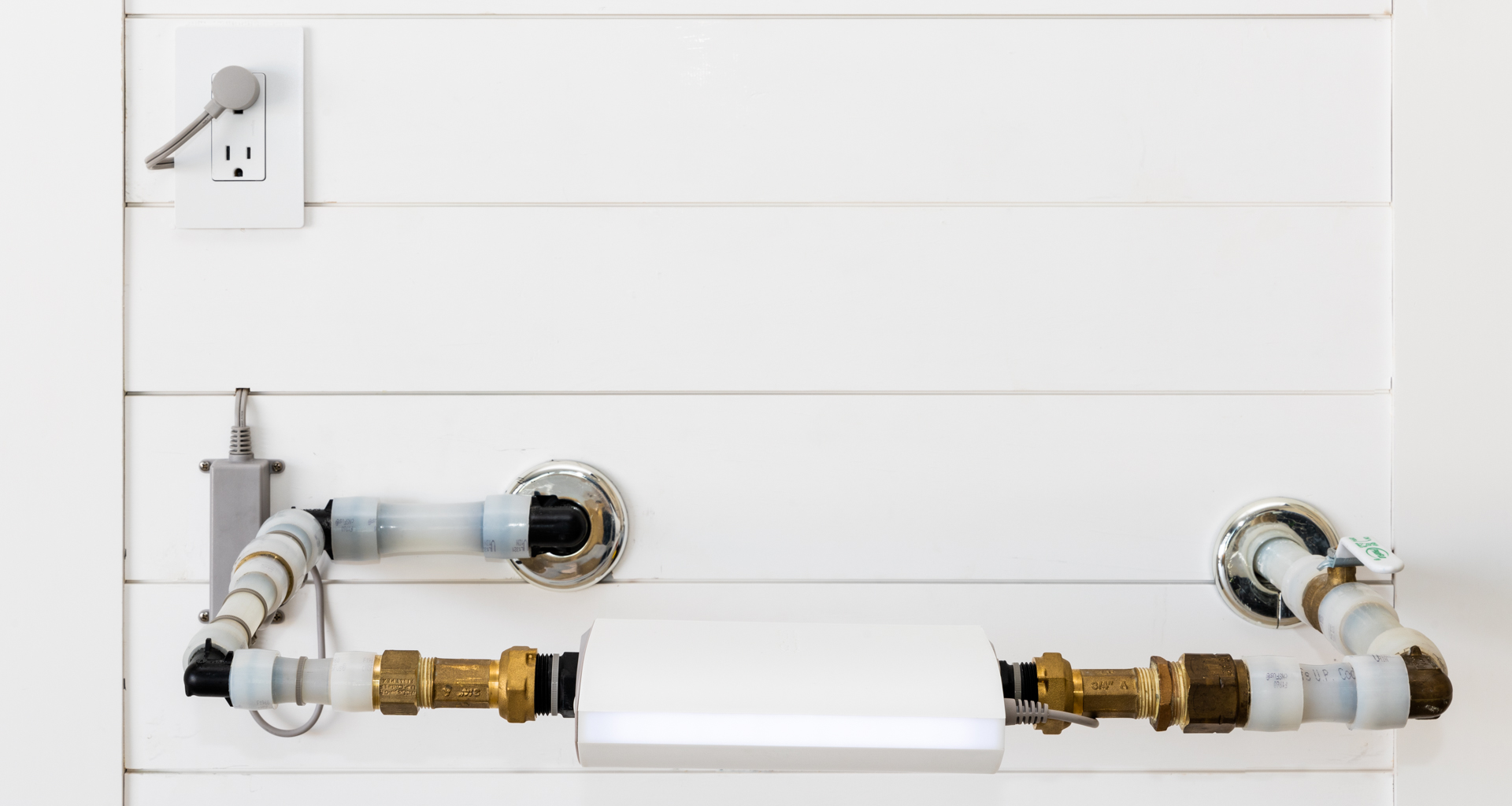 Our Digitized House Smart Home was designed with a network of Uponor PEX (cross linked polyethylene) plumbing, so installation of H2Wise+ in the garage was mostly straightforward. The installation required some additional twists and turns of PEX pipe, multiple PEX joints, as well as specific brass water meter couplings on both sides of the device. In case you are inclined to go DIY in a PEX-equipped home, do keep in mind that special tools are required to make reliable PEX joints. Our plumber used a cordless Milwaukee M12 ProPex Expansion Tool for all of the joints.
Once the plumbing configuration was completed, the H2Wise+ power adapter was plugged into a nearby outlet. We used the Kohler Konnect app to pair the H2Wise+ with our Wi-Fi network, then moved onto setup.
Kohler H2Wise+ Review: Setting Up Your New Water Network
In contrast to many smart home products, Kohler H2Wise+ does not require individual setup of every node on the water network. Rather, you can tell H2Wise+how many of each category of fixture or plumbing-related device you have through the Inventory tab. For example, to cover bathing fixtures the app lists the categories of Shower Only, Shower Tub Combo, and Tub. Similarly, for toilet-related fixtures the categories of Bidet, Toilet, and Urinal are listed. The app includes quantity selectors for approximately 50 categories of fixtures, and it takes just a minute or two to scroll through the Your Home list and select the number of each category of fixture you have. In the case of our installation, we ended up with an inventory of 18 total devices across 8 categories. And with that, setup was essentially complete.
Events Are Key
From this point onward, the pressure wave monitoring technology built into the system will take over and begin learning the unique signatures of each fixture on your network as water events occur. In reality, this is analogous to the way your broadband cable modem or Wi-Fi router monitor traffic and bandwidth usage on the Ethernet network, through an examination of data packets and identifying individual devices by their unique IP or MAC address.
In the case of H2Wise+, water consumption events linked to unique signatures are what enable the system to serve as the ultimate water network watchdog. Events here are defined as any measurable water-on and water-off action detected anywhere on the network. Behind the scenes, the technology handles grouping these individual events into the proper category, replete with event-specific metrics on the time they occurred, the precise amount of water consumed, and the duration.
Consider the case of operating a washing machine appliance with multiple wash cycles. Here, H2Wise+ will record events individually each time the washing machine's water pump opens and closes, then it rolls them up into the Washing Machine category for realtime, daily, and monthly reporting. Who knew the the lowly washing machine used so much water.
All of this happens nearly instantaneously. You can observe this realtime in the Konnect app, where running water animations will be displayed on screen whenever a water event occurs. For instance, in the production of the video below, we flushed a toilet and then opened a bathroom sink faucet. As soon as these two parallel water events were concluded, individual metrics on them were visible in the app.
Beyond water events, H2Wise+ is continually monitoring water pressure as well as temperature on the network. This enables the delivery of freeze alerts during cold spells, so you can take corrective actions before the pipes burst. Of course, in the event a pipe burst is detected, H2Wise+ can automatically shut off the water main to prevent further damage.
Kohler H2Wise+ Review: Automatic Shutoff Valve
Beyond the granular, highly categorized tracking, the H2Wise+ Automatic Shutoff Valve is the crown jewel of the system. Engineered around an electronically-operated stainless steel ball valve, the water main can be operated via any of the following methods:
Tapping an icon in the Konnect app;
Pressing the button on the side of the H2Wise+ housing;
Automatically by the H2Wise+ software (based on an alert condition);
Turning a screwdriver in the port on the side of the H2Wise+housing (in the event of a power outage situation);
Issuing a voice command through Amazon Alexa or Google Assistant.
When the valve is operating, it makes a satisfying servo-like sound. It takes less than 5 seconds for the internal motor to fully open or close the valve. An LED strip on the side of the housing indicates the status of the valve, with a fully-lit LED denoting open and a half-lit LED denoting closed.
The Automatic Shutoff Valve feature is referred to as Auto Shutoff in Settings, and the feature can be paused if desired for durations ranging from 30 minutes up to 24 hours, or paused indefinitely.
Away Mode
H2Wise+ continuously watches for potential issues on the network and alerts you to them, whether you are at home or away. However, when H2Wise+ is set to Away Mode, the device heightens its scrutiny of your network and will alert you to even the smallest of water events that could be construed as a leak or other potentially catastrophic situation. In Away Mode, any water detected as flowing for a minute or longer will generate a "low flow" smartphone alert, and unless you take corrective action it will trigger the automatic shutoff valve to turn off the water. So, if you're jetting off to Hawaii for an extended holiday, be sure that your refrigerator's ice maker has been turned off—a quart or two of water flowing into the ice maker is enough to set off an alert.
When in Away Mode, a static banner will appear on the H2Wise+ home screen to remind you of the setting. Keep in mind, however, that you don't have to wait for H2Wise+ to notify you that it's taking your water system offline, since you can always do that remotely through the Konnect app.
Kohler H2Wise+ Review: Daily/Monthly Monitoring and Usage
Aficionados of data will be pleased with what's available about the H2Wise+ water network through the Konnect app. Since every water event—no matter how small—is visible as a line item in the app, one can drill up or down into the details of goings-on related to a particular event or device category, organized by day, or rolled up by month. The H2Wise+ home screen is a conversational-type of interface, always offering the latest top-line information and access to the details are just a tap away. Always present are the current system water pressure, water temperature, and water flow statistics. From here, you can tap Run a Plumbing Check, See Alerts, See Water Use, and See Water Events.
In normal day-to-day usage, you're most likely going to tap See Water Use from the home screen, an elegant monthly calendar view with cumulative month-to-date gallons consumed, number of events, and a comparison on usage to households of similar size (you will want to set the number of people in your household in Settings). You can tap on any date in the month to drill down into data by category, viewable as gallons or percentage. Then, tap a category to see all of the individual events of the day, including time stamp, duration, and usage in gallons.
Tapping See Water Events will go straight to a listing of all the current day's events and alerts, and you may find dozens and dozens of events here (we logged one weekend day with 156 events, which included washing several batches of clothes). A handy filter feature enables viewing of the list by one or more categories, particularly helpful when the list gets long. Again, all of the events here include category, time of occurrence, duration, and usage in number of gallons. You can also sort the full or filtered list by ascending or descending usage, an easy way to ferret out the longest shower of the day if you are so inclined.
We found that H2Wise+ did an amazingly accurate job of properly identifying the category for nearly all events. But occasionally, some events can be mis-categorized by the software. The Konnect app makes it easy to re-categorize these events by tapping the Edit Event button and then assigning them to the proper category.
Certainly, the collected H2Wise+ data can be immensely helpful in helping to conserve water.
Kohler H2Wise+ Review: Plumbing System Checks
By default, H2Wise+ will automatically run a Plumbing System Check each day after midnight and report the results to you on the home screen. These are effectively stress tests of your water network, where H2Wise+is running a set of diagnostics. This includes shutting off the water for a few minutes through the Automatic Shutoff Valve, and then closely monitoring the network for any loss of water pressure that could indicate a possible leak, a dripping faucet, or other system issues.
For a deeper level of diagnostics, Kohler also offers an Extended Plumbing System Check feature. This can be activated from the Plumbing Check menu, or directly from the home screen. Whereas the Normal check takes up to 6 minutes, the Extended check does a more exhaustive check and can take up to 13 minutes. You can see how this works in the video below.
During plumbing checks, a test for excessive water pressure is also conducted, a condition that can have negative effects on your plumbing system and fixtures over time. In these cases, H2Wise+ may suggest a corrective action. For our installation, we received multiple warnings on higher than normal water pressure. H2Wise+ suggested the installation of a PRV (pressure reducing valve), so we are checking into that.
This type of feedback to the homeowner, made possible by early implementations of AI, is something we'd like to see in other smart home platforms.
Kohler H2Wise+ Review: Few Kinks
With a product as complex as Kohler H2Wise+, there are bound to be opportunities to improve. Here are a few items we'd like to see addressed in future app and firmware updates, or in future generations of the product.
Individual Device-level Metrics: As we discussed above, H2Wise+ and the Phyn technology effectively group plumbing fixtures and other devices on the network neatly into categories. However, it's not possible to differentiate between the multiple devices within a category. For instance, if there are three different Shower Only devices located in three different rooms, it's not possible to easily pinpoint the specific device using excessive water. So it would be nice to be able to rename or tag individual devices within a category to facilitate easier troubleshooting.
Automatic Water Valve Status: When the water has been shut off, there is no indication on the home screen that is the case. As things stand, you have to back out to the H2Wise+ main menu to check the on-off status of the valve. We'd like to see a simple on-off indicator on the H2Wise+ home screen.
Voice Assistant Maturity: While we were able to get Amazon Alexa support working quite easily, the results were not always helpful. In the case of issuing the command "Alexa, ask Kohler to turn off the water," the command worked to activate the Automatic Shutoff Valve, but the response from Alexa was a cryptic "SOV state is published for device." We later determined SOV was likely an acronym for shutoff valve, but things need to improve here.
Kohler and Phyn: What's Next?
In another collaboration with Phyn, Kohler also offers the H2Wise, a lower cost, undercounter version of the water monitor with many of the same features as H2Wise+ but lacking the automatic shutoff valve feature. The Kohler product is based on the Phyn Smart Water Assistant, and carries the Powered by Phyn logo. Like its Phyn counterpart, this system is more easily installed by a homeowner as a DIY project and does not require cutting into the main water line.
Another Phyn product we have tested recently is the Smart Water Sensor, an extension of the Phyn platform that can detect moisture outside of the water network and report back to the Phyn app. These are suited for use around air conditioning units, refrigerators, windows, and so on. It also functions as a humidity sensor, and can be fitted with the Extension Node sensor for tucking behind a device, or the Water Sensor Cable—a 4-ft. cable that can detect moisture along its entire length (ideal for coiling around a sump pump or beneath a window sill).
Can we expect Kohler to bring more smart water technology like this over from Phyn? "Kohler and Phyn are actively working together to expand the capability to bring more values to the consumer," said Kohler's Sprang. "We will continue to evaluate these solutions and ensure we are delivering customer solutions that are aligned with our product strategies."
It's good to see the collaboration continue between a global powerhouse brand like Kohler and a start-up like Phyn. This can only bode well for more smart water innovation going forward.
Kohler H2Wise+ Review: The Bottom Line
With Kohler H2Wise+, homeowners can elevate their disparate plumbing infrastructure into a cohesive smart water network that uses AI to continually monitor itself, provides insightful data on water usage, and can robotically trigger corrective actions to avert water catastrophes.
After living with the H2Wise+ system for over a month, we can't imagine going back to the obscurity of a non-managed water system. And while Kohler adds value to the Phyn-based H2Wise+ platform through the incorporation of Kohler product profiles, even homes without Kohler fixtures will benefit greatly from installing the system.
For More Info: