With the recent launch of macOS Mojave, Apple has finally brought the Apple Home app and HomeKit accessory control to the Mac. The integration also enables Siri voice activation control for HomeKit on the Mac ecosystem for the first time, which may be a bigger deal for many users than the Home app itself. Let's take a look at what you can and can't do with the newfound Home app on your Mac.
The Home App on Mojave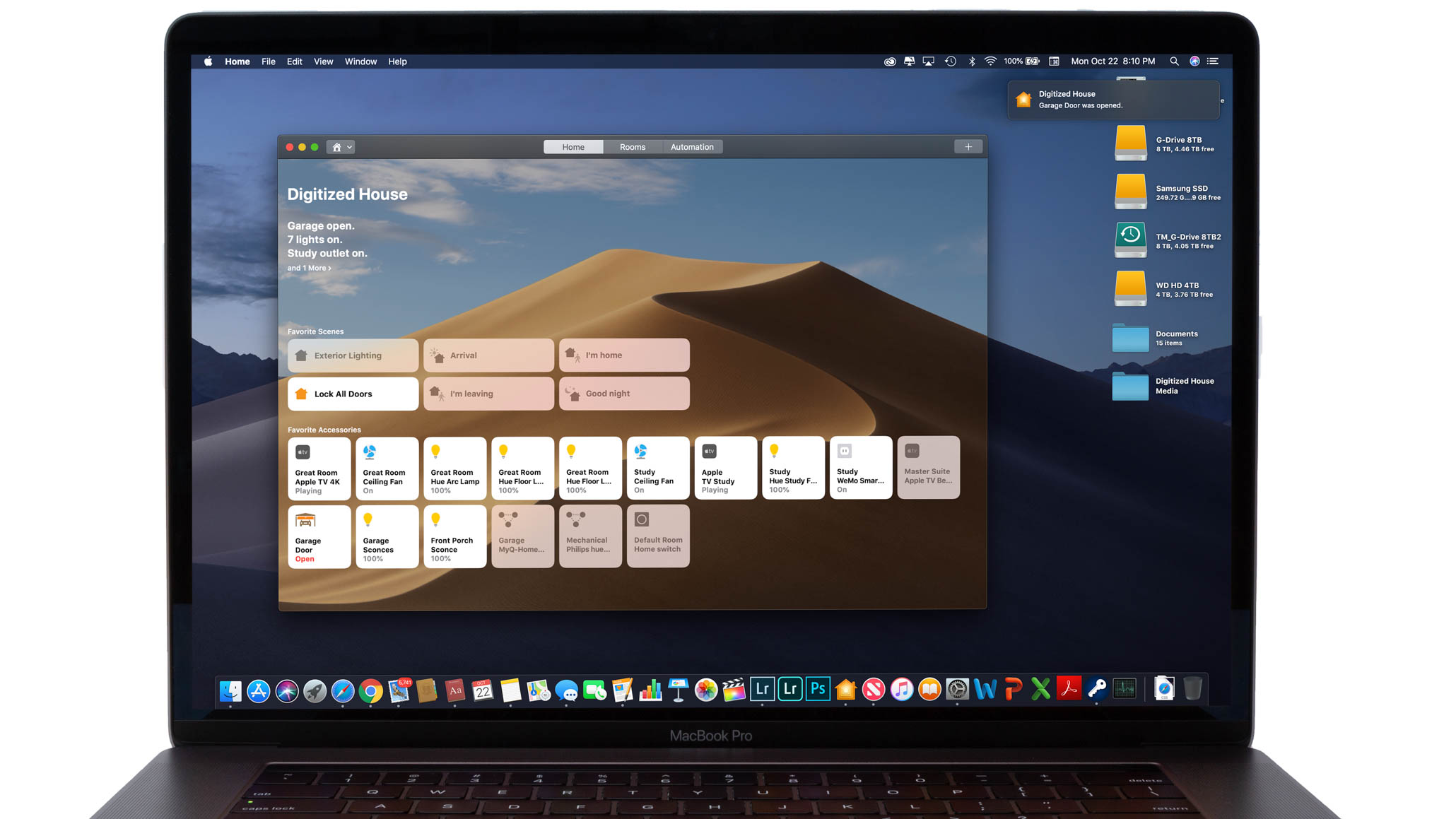 For iOS devotees who have been using the Home app on their devices, Home on the Mac will certainly be familiar to them. The tile-centric Home app has remained basically unchanged since it launched on iOS 10 over two years ago, and the interface for Version 3.0 of the app on Mojave is virtually identical to what you will see on iOS 12.
In much the same way as they did with the Apple News app on Mojave, the Cupertino company has ported the Home app to replicate iOS functionality and behave like most other Mac apps. The app opens from the Finder in a window, and can be expanded to fill the screen by clicking the maximize button.
Doing that opens up a large canvas for HomeKit tiles, and if you have already added accessories, rooms, scenes, and automations via Home or another HomeKit-compatible app on iOS, the same items will automatically synch to your Mac. You will need to be logged into the same iCloud account in order to facilitate that.
One of our favorite features on the iOS Home app carries over to the Mac: A Status Details window can be popped up to display all active accessories in the home at any given time. This can be a big help once you advance to more than a handful of smart accessories in your home.
However, you will soon discover the major rub with Home on Mojave: there is no facility for adding new HomeKit accessories from the Mac. You will have to go back to your iPhone, iPad, or iPod Touch to do that. Keep in mind you will need to be running iOS 10 or higher to use the Home app.
Active Tiles Carry Over
We credit Microsoft with popularizing the tiled interface through their Metro design language, a feature they debuted on the ill-fated Windows Phone and then carried over into Widows 8 and later desktop operating systems. Certainly, the active tile approach has caught on, and Apple has embraced the concept from day one with the Home app. And tiles on Mojave behave in precisely the same way as they do on iOS.
In the Home app, accessory tiles are grayed out when inactive, and turn white when active. Furthermore, active tiles can have an embedded animated device icon, and display their current status in text. For example, a smart plug controlling a fan can show a spinning fan icon while the device is on, and also displays the text "On" within its tile.
From either macOS or iOS, an accessory tile can be tagged to appear in a specific room, and a slider can be set to have the tile appear on the Home launch screen (referred to as Favorites). Individual accessory tiles can also be grouped with other accessories to function as a single tile. Tiles can also be dragged around to reorder them on any screen.
Clicks Versus Taps
Of course, the biggest difference in the macOS interface will be clicking on Home tiles through a mouse or trackpad versus tapping the screen in iOS. A single click in macOS will toggle a HomeKit accessory on or off, the same way things work with a single tap in iOS. 
For accessory controls or settings, a two-finger or secondary click in macOS enables a pop-up for selecting either function, a nice touch that works particularly well on a trackpad. In iOS, a single long press displays the controls screen, while settings are accessible from a button on that screen.
Hey, Siri. Nice Chatting With You.
For Mac users disappointed by the lack of HomeKit support for Siri, Mojave is a nice step forward. By definition, all HomeKit accessories gain Siri voice command control from the Mac, matching precisely how they work on iOS devices, the Apple HomePod smart speaker, and forthcoming third-party speakers with the Siri assistant built in. For example, the command "Hey Siri, open the garage door" or "Hey, Siri, is the garage door open?" will work equally well on macOS Mojave as it does on iOS and elsewhere.
What's Missing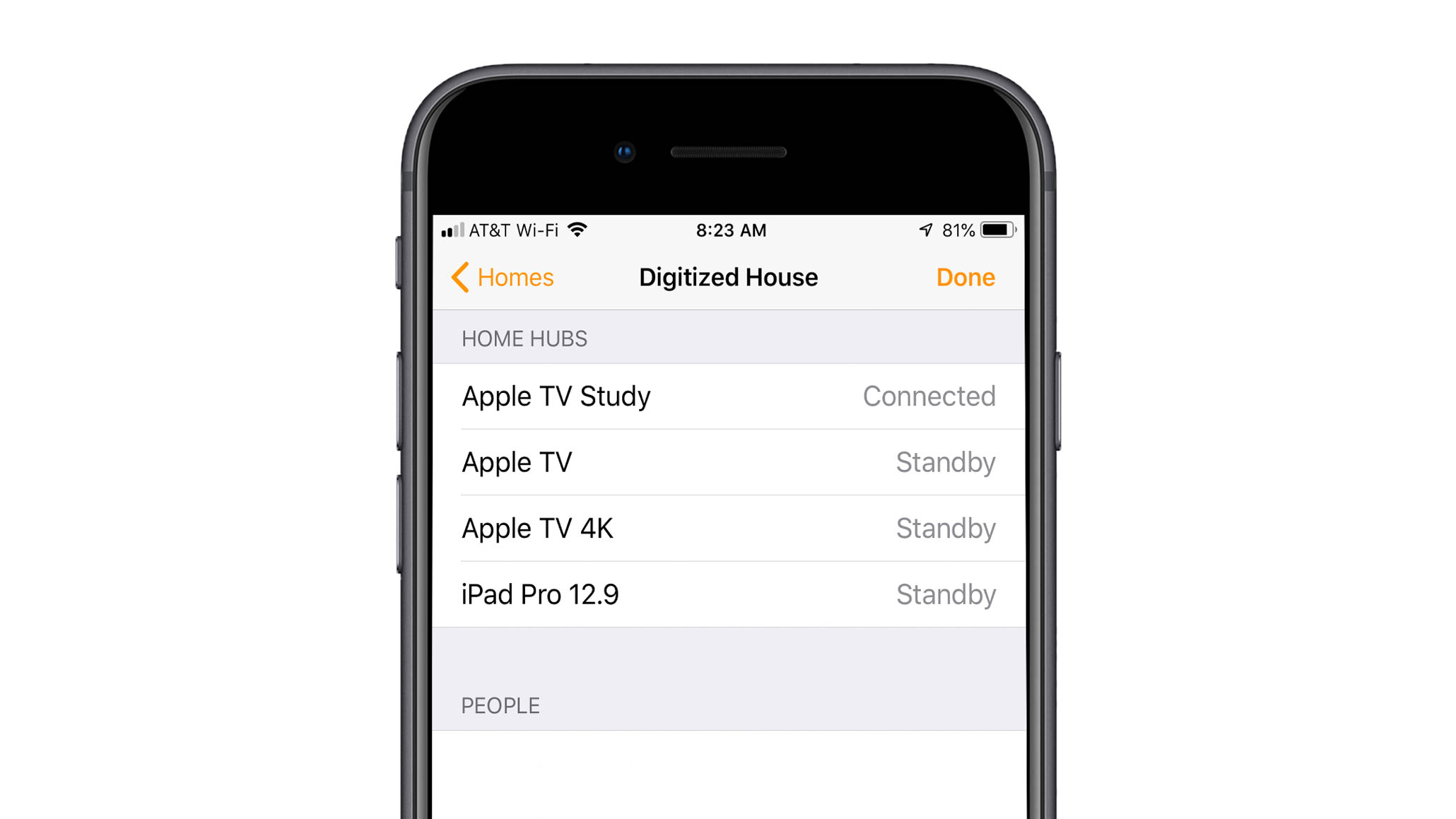 Beyond the inability to pair new HomeKit accessories, a Mac can't function as a HomeKit home hub—Apple's method for enabling remote control for HomeKit accessories and creating automations. For now, you will have to use an Apple TV 4K, Apple TV (3rd or 4th generation), HomePod, or iPad to get home hub functionality. A given home can have multiple home hubs for redundancy, and you can specify a particular device as the primary hub.
Without a home hub, the Home app will still work fine locally within a home network, but remote access will not be possible.
The Home app on macOS or iOS can be configured to control multiple homes, even if they are in geographically disparate locations. However, only one home can be active in the app at a given time. It would be nice to have multiple homes active at once on the Mac, each in their own window.
Another gap in the Home app that carries over from iOS: Wallpapers in the app don't propagate from device to device. So if you already have set specific wallpapers for Favorites or rooms in iOS on your iPad, you will have to recreate all of those wallpapers on Mojave. You will also have the same issue between devices on iOS. 
The other issue lies in supported hardware for Mojave. You can't get the Home app without Mojave, and in order to install the free upgrade your Mac will need to be on the supported hardware list. A broad swath of legacy Macs will not be able to run Mojave.
Controlling Your Castle with the Home App
With the Home app, we think Apple has one of the best connected home consoles. The app and connected HomeKit accessories work instantly and reliably with just the right amount of visual feedback. Adding the Mac to the list of supported devices only sweetens the deal for HomeKit users, and Siri support lends more legitimacy to the platform.
But the connected home market has rapidly evolved into three primary ecosystems, including Apple HomeKit and Siri, Amazon Echo and their Alexa assistant, and Google Home and Google Assistant. However, Amazon and Google are outpacing the Apple ecosystem on the sheer number of supported devices.
So, in order to future-proof your connected home to some extent, look for accessories that can be used within more than one of the above ecosystems. For example, products such as those from iDevices can be used equally well with HomeKit and Siri as they can with Amazon Alexa and Google Assistant.
It would be fantastic if more device makers took that approach.