With smart TVs and smartphones, smart kitchen gadgets are simply the next area of your life where smart needs to be. If your kitchen is already in need of an overhaul, then converting your old kitchen into a smart one would make a lot of sense to get the best out of your cooking space.
If you are wondering exactly what a smart kitchen is, you will be happy to learn that it is basically a kitchen with smart kitchen appliances or smart gadgets that are all hooked up to your smartphone, whether through Bluetooth or your Wi-Fi. 
I can hear you asking, but why do I need to have a smart kitchen? Well, did you know that smart kitchen technology in your house can actually improve your quality of life? But as there is so much to choose from, it can seem overwhelming. So, which ones are the best? Read on, my friend to find out more. 
[1] Crock-Pot WeMo Enabled Smart Slow Cooker
You know how you've always been a tad nervous to leave a slow cooker on all day when you aren't home to keep an eye on it? Well, what I love about the Crock-Pot WeMo Enabled Smart Slow Cooker is that you can push those fears aside. With this smart kitchen appliance, you can monitor what you are cooking, adjust the heat or the timing—all with the use of your mobile device. 
This is the perfect appliance for those who want to spend more time in the kitchen, but don't actually have a lot of time to spend in the kitchen. It connects to your Wi-Fi and works like any slow cooker around, you add all the ingredients in the morning and everything will be cooked and ready by the time you get home; plus, you'll have peace of mind being able to control it from far away. And as another upside, it uses the popular WeMo app that connects with other WeMo-enabled products that you may place in your home.
[2] Brita Infinity Wi-Fi Enabled Water Pitcher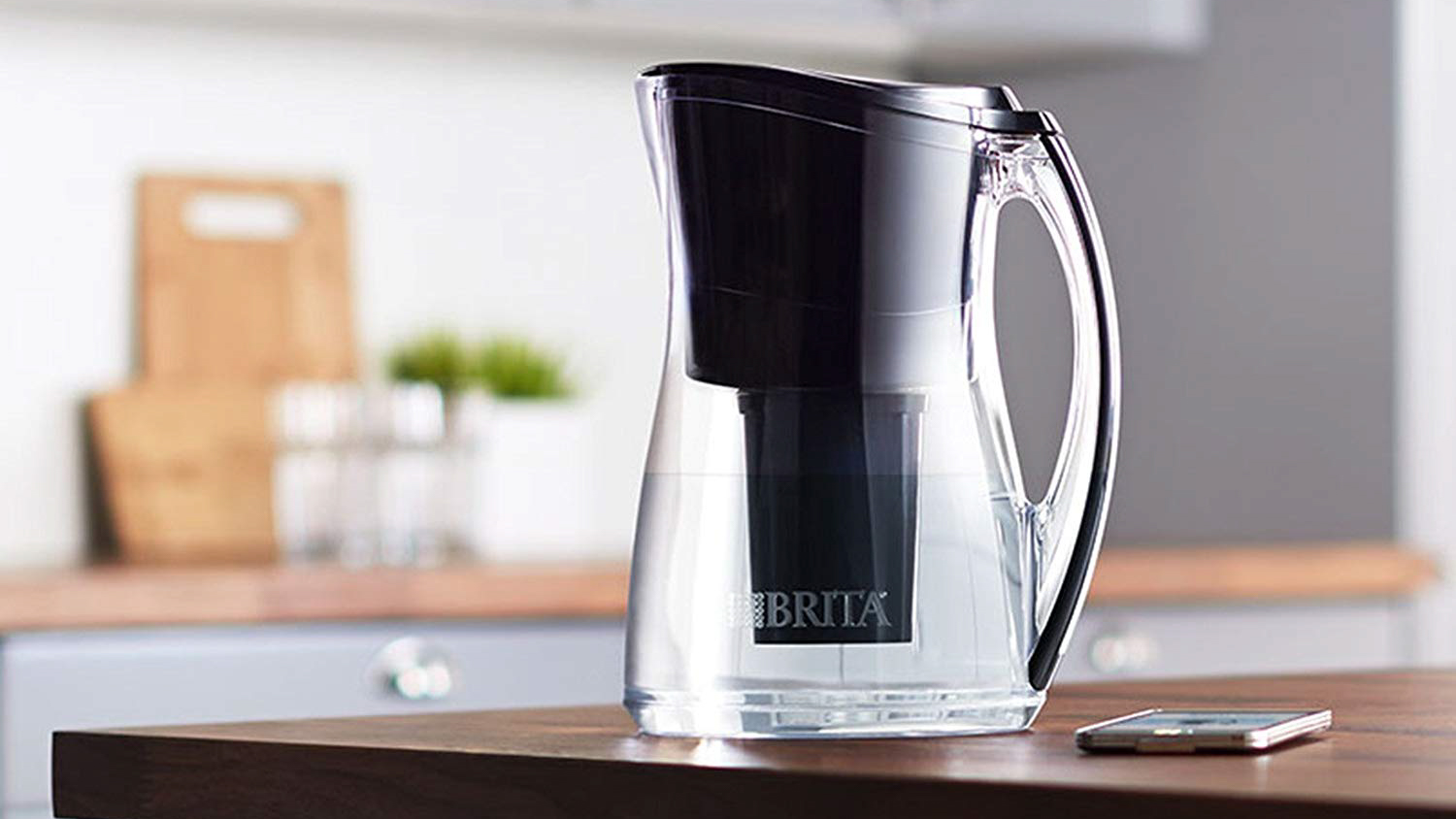 In a world where we really need to cut out our use of plastic water bottles, why not spring for this smart kitchen gadget? Not only will the Brita Infinity Wi-Fi Enabled Water Pitcher give you beautifully filtered water, but it will also keep track of your use, the quality of the water, and when the filter needs changing, it will order another one for you. 
Sure, for a water pitcher, $75 may seem a bit steep, but if you buy packs of water bottles at the grocery store, you will save money over time. Plus, by filling up a reusable water bottle with your Brita Infinity, imagine how many fewer plastic bottles are going to landfills thanks to you. Bravo, you. Bravo. 
[3] SmartPlate TopView
Who loves counting calories? Anyone, anyone? I didn't think so. The SmartPlate TopView is a smart kitchen gadget will help you get past the time-consuming task that many choose to do in order to lose some weight. It is a 10-inch plate that is divided up into three sections, and it connects to your Wi-Fi via Bluetooth.
Although it comes in at $79+, if you are tired of overeating, or consistently giving up on your diet because calorie counting is just too much, then this may be the smart kitchen technology you need. It is also dishwasher and microwave-safe. 
Simply put your food on your plate, take a top-view picture with your phone and you can then sync it to the app. It also will sync with meal trackers like MyFitnessPal and Fitbit. Plus, with alerts to tell you that you are going over your macronutrients, you can start focusing more on living a healthy lifestyle, versus counting out 20 almonds each and every time. 
[4] Triby Smart Speaker
I don't know about you, but for me, it never fails that I realize I am out of a key kitchen ingredient when my hands are covered in raw meat or flour and I can't write it down. Enter Triby, the Smart Speaker that allows you to voice activate almost anything you could possibly need with the Amazon Alexa assistant built in. 
From listening to music while you are cooking up a storm, to leaving a message for a loved one. Or how about asking Triby to call your loved one to pick up the tomatoes you forgot to get for the meal you are about to make? It will even connect with your other smart home devices, so really this is the best way to have a connected kitchen that will work for you and your whole family. 
Ready to Take the Plunge?
Having a smart kitchen is the way of the future; it allows for us to be more efficient with our time, which in turn, allows us to spend more quality time with loved ones doing what we love. Although there are many smart kitchen gadgets from which to choose, the ones aforementioned will make your life easier overnight. 
More About This Topic: