It seems that Apple has made eliminating most ports on their products Job One, with USB-C spec ports the lone survivor. That's certainly the case with the latest iPad Air 2020 (10.9-in.) and iPad Pro 2018-2020 (11-in. and 12.9-in.), where these excellent tablets are hobbled with a single USB-C port and no audio port. The folks at Fledging set out to correct that wrong with Hubble for iPad, a sleek aerospace aluminum protective chassis with USB-C hub and wraparound soft case cover—making it an attractive option for people wanting to use their iPad as a desktop replacement or seeking universal connectivity. Read on for our hands-on review.
Editor's Note: Hubble has since closed its doors and is no longer making these devices.
Fledging Hubble for iPad: Out of the Box
Based in Birmingham, Alabama, Fledging designs and builds a variety of computing accessories, including internal SSD upgrades, Thunderbolt 3 and USB-C external SSD enclosures, related cables, and more. With Hubble for iPad, they focused on delivering a maximum number of useable ports and protection to the latest USB-C Apple iPads through a pair of products: One that fits both the Apple iPad Air 2020 (10.9-in.) and iPad Pro 2018-2020 (11-in.), and another for the iPad Pro 2018-2020 (12.9-in.).
Why the need for an iPad USB-C hub? Since these latest iPads have only one port—a single USB-C port (and no audio port)—you are out of luck attaching non-USB-C accessories and audio gear unless you have the proper adapters for each device. And in that case, you are generally limited to using one or two accessories at a time.
Seven Ports to the Rescue
Hubble solves that dilemma by extending the solo USB-C port to 7 ports, making the iPad a much more versatile tool. These run the gamut of connectivity, including a USB-C charging port, a USB-C port for data, a USB-A port for data, an SD card reader, a microSD card reader, an HDMI port (up to 4K 60Hz), and a 3.5-mm audio jack. There is also a travel switch for turning off the hub when not in use to conserve power.
When you remove it from the box, the first thing you will notice about Hubble for iPad is its machined aerospace aluminum chassis. It is both light and incredibly stiff (yeah, that's why they build airplanes with this material), while serving as a cocoon for the iPad by protecting all four corners.
Our production Space Gray version was a perfect complement to our Space Gray iPad Pro 2018-2020, but you can also opt to get the Silver version to match or contrast with your iPad. Sorry, there is currently no matching Hubble for your Rose Gold, Green, or Sky Blue iPad Air 2020, but keep in mind mixing and matching is de rigueur in today's design world.
The aluminum chassis is designed to preserve direct access to all of the iPad controls through sculpting of the top, bottom, and left sides. Openings are machined into the chassis for the iPad cameras, and a large circular opening allows the iPad's Apple logo to show through the back. A black vinyl liner covers the inside of the chassis, preventing metal-on-metal contact between the chassis and the back side of the iPad. The USB-C hub module slides into the right side of the chassis and attaches securely with a pair of small metal latches.
The included tri-fold case cover is similar in design and quality to previous Apple Smart Folio covers, and snaps magnetically into place to the bottom of the Hubble chassis. When not protecting the screen, it is ideal for use as a stand in either the horizontal or vertical landscape positions.
Hubble for iPad: Setting Up
Setup with Hubble for iPad is a snap. First, unsnap the latches on the USB-C hub module, slide it out of its mounts, and set aside. Next, place the iPad into the chassis, checking that it's fully seated on all four corners and making sure the USB-C port is on the right side. Wrap up by sliding the hub module back into place and securing the metal latches (a small tool is included in the box to make that easy), then attaching the folio cover to the bottom via its magnetic connector. That's it.
Since this is an Apple iPad running iPadOS, there are no configuration settings to fiddle with and no software to install. You will want to upgrade to iPadOS 14 for best compatibility when using devices such as USB receiver-based wireless keyboards, mice, and other such devices. Of course, Bluetooth devices will still work so your AirPods and other wireless devices will still be an option.
Hubble for iPad: Daily Usage
One could simply use Hubble for iPad as a highly protective case, cover, and stand and never explore the collection of ports on its right side—and we would not hold that against you. In that scenario, you would be graced with marvelous protection and charge your iPad by attaching its standard USB-C charger to the Hubble USB-C charging port. But you would be missing out on a world of connectivity and usage case options.
Prior to Hubble for iPad, we always traveled with a collection of USB-C to "whatever" adapters, and Apple and other manufacturers sell a bunch of them. These include adapters for USB-A, HDMI, 3.5mm headphones, SD and microSD memory card readers, and more. With Hubble, you can leave all of these at home and still be confident you'll be able to connect to that aging projector in the executive conference room, easily download photos from a mirrorless camera's SD card, or exchange files with a colleague through a portable USB drive.
One of the most likely scenarios with Hubble for iPad is using your iPad (particularly, the bigger iPad Pro 12.9) as a desktop replacement, and with iPadOS 14 Apple has made it easier than ever to do so. Hubble for iPad simply extends those capabilities and options in a huge way. In what we considered an acid test, we stood the iPad Pro up by using the folding Hubble cover, launched Apple Notes with a new document, and began typing. We then hot-plugged an old wired Apple Magic Keyboard into the Hubble's USB-A port. Instantly, the iPad's on-screen keyboard retired itself and we began typing through the wondrous Magic Keyboard keys. That's how plug-and-play is supposed to work.
In the desktop replacement scenario, you can also attach a wired mouse to Hubble for iPad through USB if you are so inclined. You can also mirror your iPad screen by connecting to an external display through Hubble's HDMI (up to 4K 60Hz) or USB-C connectors. And so on.
For creative professionals, particularly where they are often moving large video files, creative source files, and huge quantities of photographic images, having direct access to external drives can be a job saver. In this usage case, Hubble for iPad provides maximum flexibility to connect nearly any type of external storage you may encounter. Do keep in mind the iPad USB-C port is not a Thunderbolt 3 port, so you can't attach native Thunderbolt 3 drives or other devices through Hubble.
One caveat with Hubble is around speaker access. In the case of the iPad Pro 2018-2020 (11-in. or 12.9-in.), two of their four speakers are on the right side and blocked by the Hubble USB-C hub. With iPad Air 2020, one of its two speakers is on the right side and similarly blocked by the Hubble hub. On the other hand, you can connect your favorite over-ear headphones, wired earbuds, external speakers, and other audio devices directly through the Hubble's 3.5mm audio port. A small price to pay.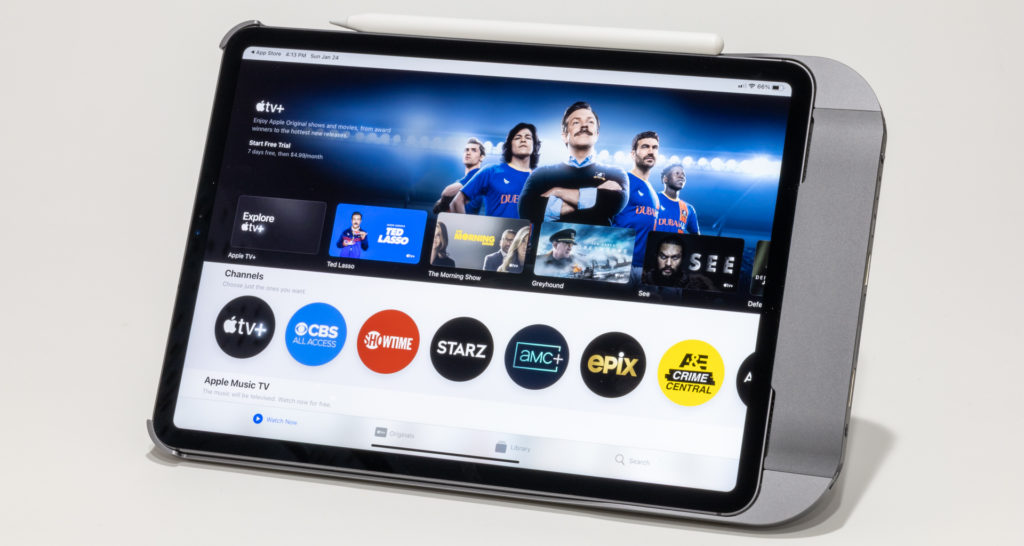 Microphones are unimpeded, however, since they are located on the left side and bottom (iPad Pro 2018-2020) and on the left only (iPad Air 2020) and easily accommodated by the sculpted aluminum Hubble chassis.
For Apple Pencil 2 users, Hubble for iPad supports the convenient magnetic charging and storage feature on the top edge—even when the Hubble cover is closed.
When using Hubble for iPad's USB-C charging port, it can support up to a 30-watt charger for rapid charging (Apple's included iPad Pro charger is 20 watts). Speaking of power, there is a penalty to pay for having Hubble for iPad connected and turned on. Fledging says there is a 1.4% per hour drainage rate when Hubble is attached and turned on with no ports in use. Of course, as you attach more devices and more chips in the hub are activated, power usage will increase. You will want to be sure the Hubble travel switch is in the off position when not in use to preserve battery power.
Hubble for iPad Bottom Line: A Swiss Army Knife for iPad Users
Hubble for iPad is the equivalent of a Swiss Army Knife for iPad Pro and iPad Air users, elegantly melding seven universal ports of connectivity with top-shelf case and screen protection. We heartily recommend it.
Hubble for iPad is available in either Silver or Space Gray finishes. Prices range from $114.99 for the 10.9/11.0-in version to $124.99 for the 12.9-in. version.