With the Ring Stick Up Cam Battery, the company that launched the smart doorbell phenomenon has just redefined the bounding boxes of home security cameras. No longer do you need to choose between indoor versus outdoor versions of a camera. No longer do you need to select from among tabletop, wall, or ceiling mounting kits. And most importantly, no longer do you need to worry about how to get the camera wired to a power source. The Stick Up Cam Battery arrives with all these dilemmas and issues pre-solved.
When we first heard of this camera, we were skeptical. A stick-up security camera? Since there are no adhesive strips in the package, these soft drink can-sized devices are not the smart home equivalents of Air Wick Stick Ups air fresheners. Rather, the Stick Up portion of the name refers to an ingenious, easy-to-use mount that can enable the camera to sit on a shelf, get screwed onto a wall or fence, or be hung from a ceiling or soffit. And if you truly need a stick-up camera inside, you may be able to improvise by attaching a suitable 3M Command adhesive strip to the mount in lieu of screws.
So, how well will these battery-powered devices work around your home? Read on.
Ring Stick Up Cam: 3 Versions
The Stick Up Cam is available in 3 versions, differing only in how they are powered and networked. Our review subject, the entirely-wireless Stick Up Cam Battery, has a removable lithium ion battery pack and connects strictly through Wi-Fi.
The Stick Up Cam Solar is identical to the Stick Up Cam Battery, with the exception of a small solar panel that plugs into the back of the camera to keep the battery charged.
Finally, the Stick Up Cam Wired brings more flexibility in power and networking, with its plug-in power supply or Power over Ethernet (POE) and the option to connect through either Wi-Fi or wired Ethernet. Furthermore, the Wired version offers more flexibility in motion detection via 3 customizable motion zones, while the Battery and Solar versions have 3 fixed zones.
All Stick Up Cams have a wide 115º field of view, 1080p HD video, night vision, two-way talk capability, and are available in either black or white matte finishes.
Ring Stick Up Cam Battery: Out of the Box
We purchased our Stick Up Cam Battery off the shelf at a local Best Buy store. Upon opening the box, it was clear Ring is taking a cue from competitor Google Nest by packaging everything you need to install the camera—including a drill bit, wall inserts and screws, and a screwdriver handle with reversible bit (including star-shaped security and Philips screw tips). The Stick Up camera body itself is a cylindrical, weather-resistant design, with a twist-to-lock cover on the bottom for battery access.
The universal mounting kit includes a reversible mounting plate with integral bubble level, adjustable aluminum arm, rubber base pad, and a mount cover. Several star-shaped security screws are also part of the package, and are used to secure the camera to the aluminum mounting arm and optionally can be used to further secure the battery cover and mount cover.
A single lithium ion battery back is included in the box, and Ring supplies an orange USB charging cable—but you will need to supply your own charging source. Most smartphone or tablet chargers with a standard USB 2.0 port can be used, or you can plug the cable into any compatible USB port on a laptop or desktop computer. Charging a fresh battery out of the box takes about 5-6 hours using a 12-watt iPad charger, so plan accordingly when you install your camera. These batteries are also identical to those used in the Ring Video Doorbell 2, Spotlight Cam Battery, Spotlight Cam Solar, and new Door View Cam.
Ring Stick Up Cam Battery: Mounting Options
Aesthetically, the Ring Stick Up Cam Battery has a clean, modern design that will be at home either inside or outside of your home. When used inside, these small cameras are ideal for simply setting on a shelf or mantle—a feat much more difficult with wired cameras since power outlets are typically rare in these locations. Straight out of the box, the camera mount is configured to be used this way. A removable rubber base pad is fitted beneath the mount to protect the surface.
For ceiling mounting, simply rotate the camera body 180º so the base is above the camera, then remove the mount cover plate. Using the suppled screwdriver or a small power screwdriver, drive the screws into the ceiling surface and replace the cover plate. On some surfaces, you may need to pre-drill the holes with the supplied drill bit and insert the plastic anchors before driving the screws.
For mounting to a wall, rotate the base to the rear, then attach the rubber base pad to the reverse side of the mount. To finish up, drive the 3 screws into the wall surface to secure the camera and then snap the mount cover into place.
When using these cameras outside, be sure to mount them in a high, difficult-to-access location to thwart would-be thieves from stealing them. For an extra safety measure, a supplied star security screw can be used to secure the cover plate, making the mounting screws inaccessible. Similarly, a security screw can be inserted into the bottom of the battery cover to prevent removal of the battery.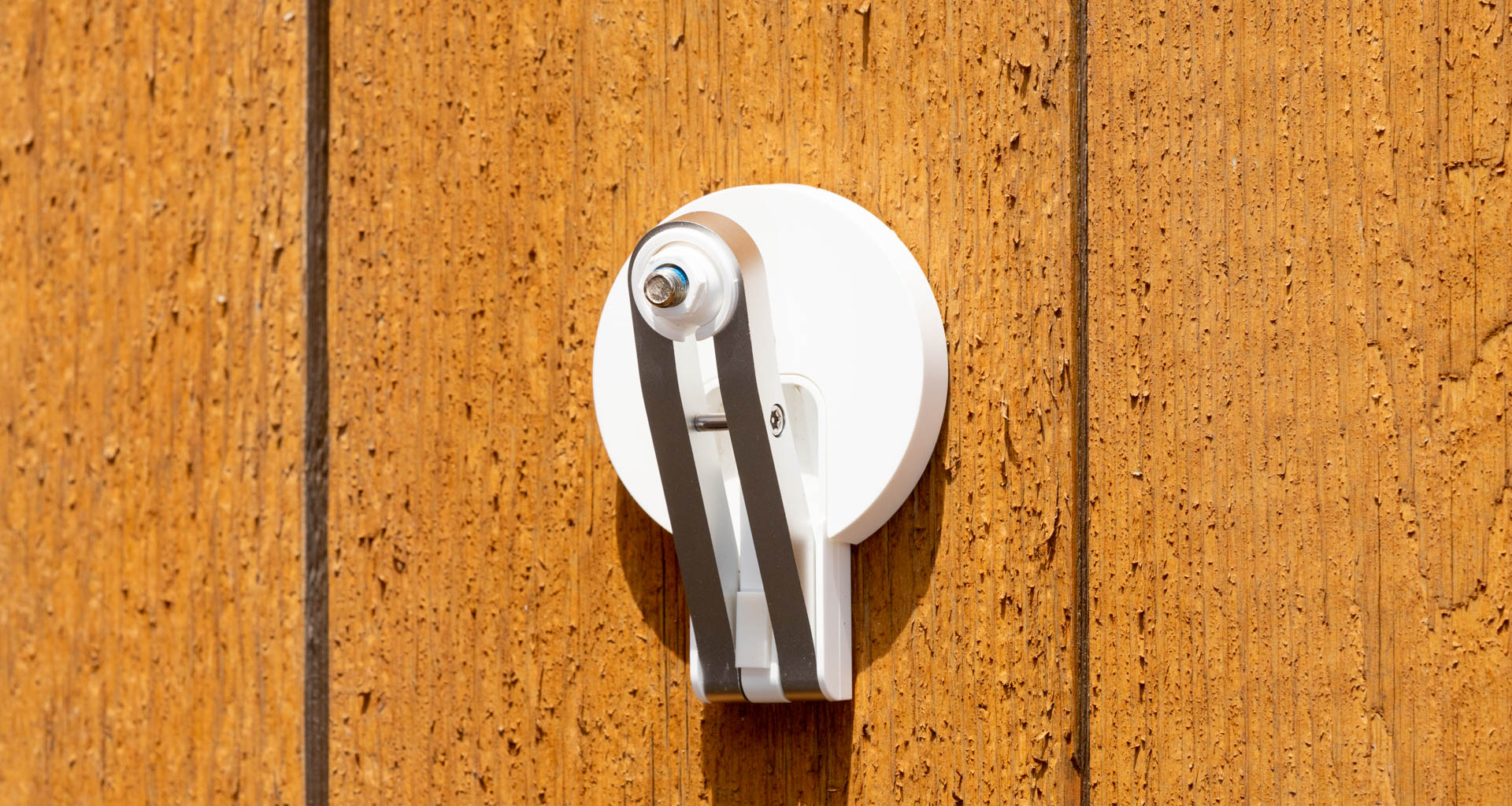 Ring Stick Up Cam Battery: Ring App
The Ring app is the central command center for the Stick Up Cam, and it can co-exist alongside all other Ring cameras, doorbells, and security systems. The app is also used to install install the camera, and this is easily accomplished by following the app's guided steps. The preferred installation method includes scanning the QR code on the inside of the battery cover with your smartphone, but Ring also provides alternate installation methods that don't include scanning.
Once the camera is connected to Wi-Fi and installation is complete, the Stick Up Cam behaves much like other Ring cameras. The camera will appear in the Camera section of the app, and tapping it will display the detailed management and history view. From there, a tap can be used to enter Live View mode with accompanying two-way talk and sound buttons. Furthermore, a tap on the rectangle icon can be used to rotate the stream into full-screen landscape mode.
Motion Alerts can be set to send notifications from the Stick Up Cam, but the camera can't display the familiar Ring Alerts: these "Someone is at your Door" alerts are reserved for Ring Doorbell products only, and appear when a visitor presses the doorbell's front button.
The history feature will also be familiar to Ring Doorbell owners, with its horizontal scrolling for easy access to all video recording events of the day, and the calendar to access recordings from previous days.
By tapping the gear icon, the Ring app provides the battery level and switches for Record Motion and Motion Alerts. Still more information and settings can be accessed through buttons for Event History, Device Health, Linked Chimes, Motion Snooze, Motion Settings, App Alert Tones, Shared Users, Partners, and Video Settings.
Ring Stick Up Cam Battery: Video Recording and Alerts
The Stick Up Cam can be set to record as much or as little motion as you prefer, and you can set the Ring app to be as obtrusive or as silent as you like with visual and audio alerts based on the events it observes. Through the Motion Settings button, you can select zero to three predefined motion zones for the activation of recording, and also adjust the degree of sensitivity you prefer. Additionally, you can set multiple Motion Schedules to disable motion alerts based on day of week of and time of the day, and you can also adjust the volume and tone of audible alerts.
Motion Frequency can also be adjusted to capture motion and send motion notifications based on frequent, standard, or light intervals. More than any other setting, this adjustment will have an impact on battery life. We set our Stick Up Cam to use the standard setting here, and we were able to go about seven weeks before the battery signaled us it needed a recharge. Changing to frequent would reduce battery life, while light would add to battery life.
When activated, Motion Alerts will display as OS-level smartphone notifications. For Apple iOS and Apple Watch users, these notifications can also be mirrored to the watch face with an accompanying vibration haptic.
Ring Stick Up Cam Battery: Ring Protect Plans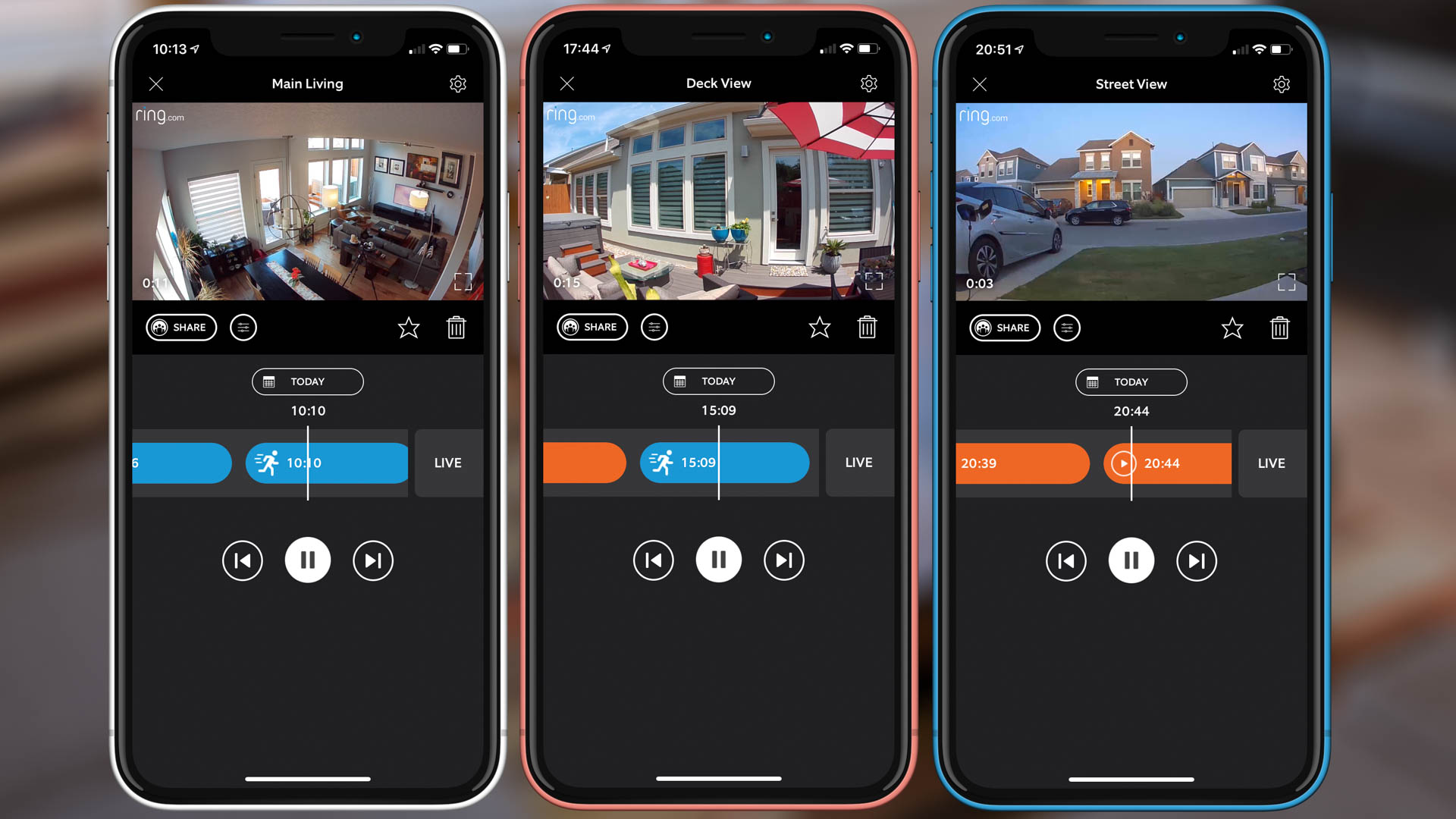 Real-time video with Live View and motion-activated notifications are included free with the purchase of a Ring Stick Up Cam Battery, as well as with all other Ring cameras. In order to get video recording, history, and sharing, you will need to subscribe to one of the for-fee Ring Protect plans. A 30-day trial Ring Protect plan is included with purchase, so you can try out the features of the Basic plan before you buy.
The Ring Protect Basic plan costs $3 per month for one device, or $30 per year with an annual purchase. The plan includes video history for 60 days, plus video saving and sharing features. The Ring Protect Plus plan covers all the Ring cameras in a home at $10 per month, or $100 per year with an annual purchase. The Plus plan also includes 24/7 professional monitoring for the Ring Alarm system, extended warranties for all devices, and 10% off selected products on the Ring website.
Do you need a Ring Protect plan? As is the case with most security cameras, you will certainly need a plan if you want to do anything more than viewing the live stream and conversing with visitors as they approach your door.
Ring Stick Up Cam Battery: The Bottom Line
Can a battery-powered security camera fit the bill for security in and around today's connected home?
With the Ring Stick Up Cam Battery, the video doorbell pioneer has thought outside the box and designed an eminently flexible security camera that is fitting for indoor and outdoor usage; can sit on a shelf, mount to a wall, or hang from a ceiling; is unencumbered by power and networking cables; and does all of this while running for weeks on a single charge of its lithium ion battery. We can heartily recommend it.