We won't take the time here to beat around the forsythia bush. So just how intelligent is a Zilker smart water timer? Let's do some Q & A to find out. Can it alert you to possible leaks? Check. Adjust itself based on the weather? Check. Send a notification if you forgot to open the faucet? Check. Tell you how much water it used last month? Check. Save you a boatload of water and headaches? Check and double check.
Editor's Note: The Zilker Smart Water Timer is no longer available. However, the new Rachio Smart Hose Timer (launched in Summer 2023) is based on Zilker technology, and you can get it here:
We first looked at the Zilker prototype 3 years ago, when former Apple engineer John Hanna was launching a Kickstarter campaign to get his ultra-smart garden hose timer design off the virtual drawing board and into production. Frustrated with woefully inadequate, garden-variety water timers, Hanna sought to bring an intelligent irrigation alternative to market. Here, he eyed the roughly 50% of homeowners in the U.S. relying on garden hoses, above-ground sprinklers, and drip emitters for irrigation of their landscapes.
While the Kickstarter failed to generate sufficient crowdfunding, Hanna and his startup, Austin Devices, remained undeterred. They later secured investor funding to help get Zilker across the finish line, and the rest is history: Following a successful beta program in the summer of 2018, Zilker finally began shipping early in 2019—some 5 years after Hanna began development.
How well does this greenfield design translate into garden smarts? After spending a few weeks testing Zilker in our Digitized House Connected Home Labs, in the yard, and in the garden, it's clear Austin Devices has hit paydirt. We are enthusiastic about Zilker, how well it works, and how it uses pragmatic AI algorithms to deliver just the right amount of water—or no water at all—to your lawn and garden. 
And the caveats? Well, right now the required Zilker app only runs on Apple iPhones and iPads running iOS 10 or higher, but Hanna says they are working on an Android version—though there is not yet a committed release date. Voice control is also missing in action, but there are plans to develop an Amazon Alexa skill down the road.
Let's dig into the details of it.
Zilker Smart Water Timer: Out of the Box
The production Zilker components we received for testing were nearly indistinguishable from the look, feel, and functionality prescribed for the prototype, a testimony to the undeniable adroitness of Hanna's original designs. And in keeping with the sustainability-centric grounding of this product, Zilker arrived clad in brown packaging made from recycled materials.
A base Zilker system consists of at least one Zilker Valve—an outdoor module that resides between the hose bib and garden hose—and a Zilker Bridge, an indoor device that wirelessly connects the valves to the home's Wi-Fi network. Austin Devices packages these two components into the Zilker Starter Kit, which sells for $109.99 on Amazon. The starter kit also includes a power adapter/cable for the bridge.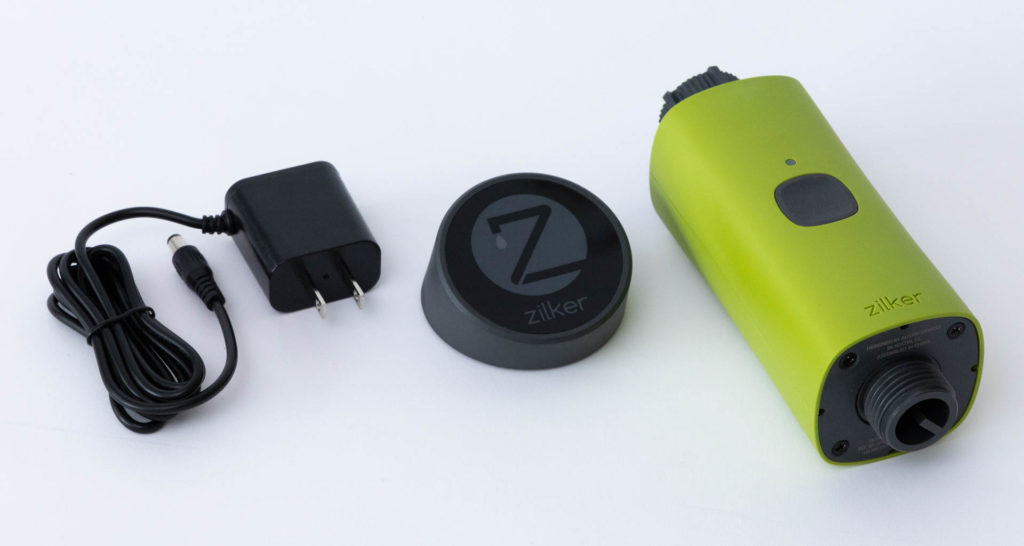 Additional Zilker Valves are available for expanding the system and sell for $69.99 each on Amazon. You can think of Zilker Valves as being analogous to zones in an underground sprinkler system. For example, if you have a small landscape with a front yard, back yard, and flower bed, you would need a trio of Zilker Valves to independently control irrigation of the three areas. A single Zilker Bridge can support up to 8 Zilker Valves, plenty for most landscapes.
For setting up our test bed, we acquired one Zilker Starter Kit plus an add-on Zilker Valve.
Zilker Smart Water Timer: To the Cloud and Beyond
The other component of the Zilker architecture is Zilker Cloud, a no-cost, cloud-based service managed by Austin Devices. The Zilker Bridge securely connects to the Zilker Cloud servers over a broadband connection, and enables remote management of a Zilker setup from anywhere in the world through the app.
And, dare we say, Zilker elevates the concept of cloud computing to a still higher level by integrating meteorological data. As such, the AI working behind the scenes constantly tracks hyperlocal weather conditions and feeds these data to the Zilker Bridge and Zilker app for controlling Zilker Valves. For this feature, Zilker connects to the Personal Weather Software (PWS) network of worldwide weather stations and can adjust its irrigation schedules accordingly.
Zilker Smart Water Timer: Zilker Valve Details
While it's true the Zilker Bridge, Zilker Cloud, and Zilker app are the collective brain trust for the system, a Zilker Valve is an engineering marvel in its own right. Much more than an automated valve for your garden hose, the neon green valve employs electro-mechanical technology to positively turn the water flow on and off, while simultaneously measuring the flow rate through the use of an axial turbine.
This integral turbine sets Zilker apart from most other smart water timers, though there are some others—such as the Orbit B-hyve 21004 timer—that can also measure water flow rates. Moreover, Zilker is a cut above most smart irrigation controllers designed for in-ground sprinkler systems, as these controllers can simply turn valves on and off—with no visibility to the amount of water flowing through them (though Rachio does offer a Wireless Flow Meter to measure the water flow through their entire system).
Another benefit of the axial turbine is smart leak detection. Since Zilker continuously monitors the water flow rate, an increase in flow rate can mean there is a leaky water hose or hose fitting. In that case, Zilker can raise an alert so you can address the problem. Conversely, if you forget to turn on the hose tap, Zilker will detect the zero flow rate as a watering schedule kicks in, then raise an alert through the app.
Furthermore, an onboard 900 MHz radio for communication with the Zilker Bridge facilitates much longer range than Wi-Fi, so Zilker Valves can be up to 500 ft. away from the bridge in a clear line of sight. What's more, the radio signals easily penetrate walls so you can rest assured automation commands sent from a Zilker Bridge will be faithfully delivered to the valve on the other side of the wall.
An LED on the front of the valve body briefly flashes as the valve mechanism opens or closes during an automated watering cycle—green for opening and red for closing—with a comforting "thunk" as the valve gate actuates. They can also be operated manually by simply pressing the grey button on the front of the valve, which causes the valve to stay open for 10 minutes.
Zilker Smart Water Timer: Setup

What you won't find inside Zilker packages is an owner's manual. Austin Devices instead instructs the user to download the Zilker app from the App Store, and stating "… the app will guide you through the setup process." As our testing confirmed, the app is quite capable and methodically guided us through each step to a fully functional system. They also offer the website at zilker.co for access to additional setup tips and FAQs.
Here is the 5-step setup process we followed to get our starter kit up and running.
[1] Adding a Zilker Bridge
We inserted the power cord into the back of the Zilker Bridge, then plugged the power adapter into a nearby outlet and waited for a solid amber light to appear on the face. The app then walked us through adding the bridge to our Wi-Fi network and creating an account on the Zilker Cloud.
[2] Adding a Zilker Valve
We needed a small Phillips screwdriver to remove the battery cover on the back of the Zilker Valve, then inserted a pair of AA batteries and reattached the cover. The app then instructed us on pairing the valve with the Zilker Bridge.
[3] Creating a Zone
Once the Zilker Valve was paired, the app walked us through creating a watering zone to place it in. This entails naming the zone, followed by adding its square footage, plant type, sunlight exposure, and degree of slope. Still more details can be added via the Advanced tab.
[4] Selecting a Weather Station
Each Zilker system must be pointed at a National Weather Station or Personal Weather Station on the PWS network. This is easily accomplished by selecting a nearby station from the Zilker app.
In our case, we have a dedicated weather station on-site at Digitized House already publishing to the PWS network, so we selected our own station (PWS_HARPERPARK). You'll want to find the one closest to your home for best results.
[5] Adding a Schedule
While this can be skipped during initial setup, you will want to create one or more schedules through the app. A given schedule can direct the activity of one or more zones.
In our case, we created 5 different schedules with varying attributes to enable holistic testing. In doing this, we began to unearth the deep powers inherent in Zilker schedules. Foremost among these is the capability to set Weather Dependent or Weather Independent schedules. We'll delve deeper into schedules and how Zilker uses weather data in a later section.
Zilker Smart Water Timer: Behind the Scenes
Collectively, the Zilker system reflects the deep thinking of its inventor around how smart irrigation systems should be designed to work for their owner, rather than against them. To accomplish that goal, Hanna integrated meteorological concepts, basic plant and agricultural science, and civil engineering principles into his design spec. Finally, a healthy layer of AI software was added to translate these data and principles into highly smart, automated actions.
Here are some of the key features that resulted from this design approach.
Fine-Grained Zone Setup
Through asking the owner to precisely describe the size and other specifics about each zone, Zilker can more accurately deliver just the right amount of water in that area. This includes settings such as plant type, soil makeup, available sunlight, ground slope, root depth, and more.
As a result of programmatically evaluating specific zone traits, Zilker can be as efficient at watering large areas of turf with sprinklers as it is with drip-watering a single potted plant. By way of example, Zilker takes the specific plant type selected for the zone and assigns a crop coefficient value. It then uses that value in calculating evapotranspiration (see below).
Monitoring Weather Conditions
By requiring the owner to select a nearby weather station, Zilker is able to continuously monitor relevant weather conditions. This is evident on the home screen of the app, where the current temperature and weather conditions are displayed. Furthermore, access to this data becomes all-important when Zilker is running automated schedules, where it can make adjustments based on the weather.
Calculating Evapotranspiration and Moisture Levels
Based on weather metrics, Zilker can also calculate the amount of evapotranspiration that occurs in each zone. It then uses the resulting data to adjust its watering accordingly. This is predicated on American Society of Civil Engineers (ASCE) formulas, and enables Zilker to modulate watering based on temperature, humidity, and cloud coverage—rather than resorting to an array of in-ground sensors.
Weather Dependent or Weather Independent Schedules
Zilker schedules can be set as either Weather Dependent or Weather Independent. With a Weather Dependent schedule, Zilker will irrigate only when water is needed, based on the weather and zone-specific data. Any schedule can include one or more zones.
In a Weather Independent schedule, owners can specify desired water volume in gallons, water volume in inches, or run time duration for desired zones, then choose when it should execute based on a pre-determined schedule. A Rain Skip feature can also be set if desired.
App and OS-level Notifications
Zilker offers 10 categories of smartphone notifications, which can be individually switched on or off. More than any single feature, notifications reveal just how much Zilker is doing behind the scenes for you. These include alerts around offline devices, poor weather data, leak detection, upcoming watering schedules, low batteries, and more.
Charts, Tables, and More
Zilker is quite adept at tracking virtually every aspect of its operations, and the app can display a wide range of charts or tables depicting total water usage, moisture balance, and more. These can be viewed on a zone-by-zone basis or in aggregate.
In some cases, these are more than static charts: For example, from the daily Moisture chart, you can adjust the current moisture balance of the zone. Or look back at a given day to see the moisture level, net irrigation, net rainfall, and evapotranspiration metrics—as well as the name of the weather station Zilker was pointed to.
Deep In-App Help
Not sure what you're doing in the Zilker app? Or just want to learn more about how Zilker makes decisions on your behalf? Then tap the i (info) icon available on many screens. For example, the help page "How does Zilker track soil moisture?" gives in-depth details on the calculations behind the soil moisture metric.
Zilker Smart Water Timer: The Bottom Line
Much more than an exceedingly intelligent water timer for the garden hose, Zilker is a holistic, well-architected, and expandable system for accurately and scientifically irrigating your landscape and conserving water. We highly recommend it.