Apple has announced they will deliver a significant upgrade to the popular AirPods headphones in the form of AirPods Pro, an all-new, hybrid in-ear design with active noise cancellation. The Cupertino company says the new headphones will sell for $249 when they arrive in Apple stores beginning October 30. Consumers can also order the product from the Apple website and the Apple Store app.
The biggest departure from the original AirPods design is the in-ear fitting of the headphones. Whereas all other AirPods rest on the ear, AirPods Pro have flexible ear tips that go into the ear canal—not unlike those of garden-variety ear buds. But like their on-ear AirPods brethren, the more-bulbous AirPods Pro still have the downward-facing stem for ballast, and do not sport over-ear brackets. The other visible difference is that AirPods Pro have shorter stems, an attribute that also makes for a stouter wireless charging case.
Addressing Issues with Previous AirPods
By delivering a customizable in-ear design, Apple has addressed the two most common complaints with the previous universal-fit AirPods. First, a tendency for them to fall off the ears for some people when briskly moving around. And secondly, their inability to block ambient background noise due to an open-ear design.
Presumably, the customizable design of AirPods Pro with three different sizes of silicone ear tips will solve the first issue, particularly when running or exercising aggressively. They also have a built-in venting system, designed to equalize pressure in the ear canal and minimize discomfort when wearing them for extended periods of time. Damp-weather runners will also be happy to hear the new AirPods are sweat- and water-resistant, earning an IPX4 rating,
On the second issue, Apple says they have tackled the background noise problem by integrating Active Noise Cancellation through special hardware and software. Two microphones are used, including an outward-facing mic that detects external environmental noise and cancels it out. Then, an inward-facing mic cancels out additional noise while preserving the quality of music and conversations.

Transparency Mode Debuts
Apple recognizes that not everyone wants total background noise cancellation at all times. Toward that end, they have developed Transparency mode for AirPods Pro, an option to enable listening to music while also hearing sounds in the surrounding environment. The mode setting adjusts the amount of noise cancellation through software while ensuring optimum audio quality.
A new force sensor on the AirPods Pro stem enables easy switching between Transparency mode and Active Noise Cancellation mode. The force sensor can also be used to play music, pause or skip tracks, and answer or hang up calls (yes, another throwback to the buttons on older-generation wired ear buds).
Hello, H1 Chip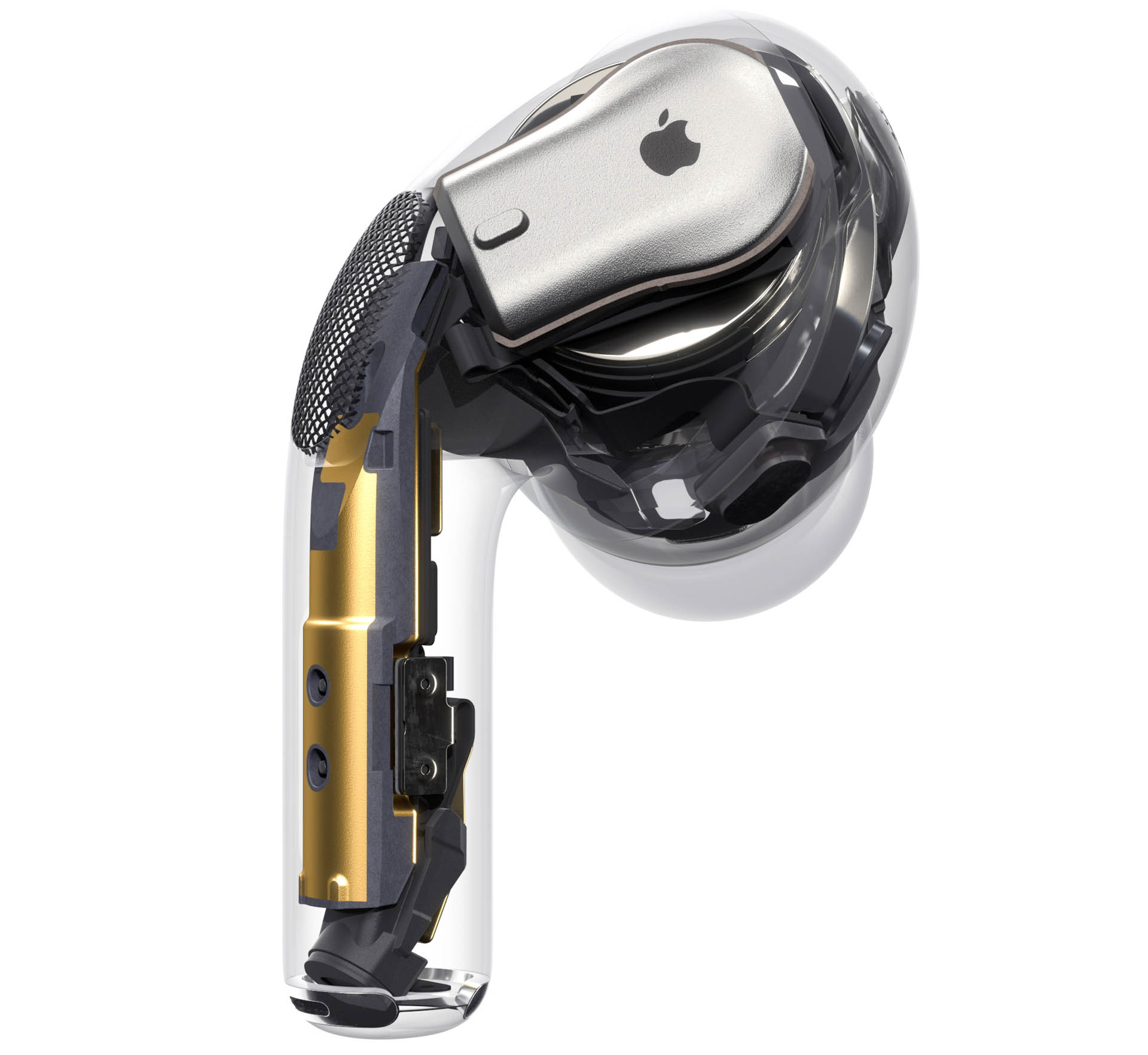 Behind the scenes, the AirPods Pro are powered by the Apple-designed H1 chip, which has 10 audio cores. Apple states the low-latency chip is what makes real-time noise cancellation possible, and also enables concurrent hands-free "Hey Siri" voice commands to play a song, adjust volume, or ask for directions.
AirPods Pro also debut with what Apple calls Adaptive EQ, a sound-enhancing equalization feature. Aided by the H1 chip, it adjusts the low and medium music frequencies to match the shape of the user's ear.
Wireless Charging Part of Package
The Qi wireless charging feature available on the current AirPods with Wireless Charging Case version carries over to AirPods Pro. So, the headphones can be charged by placing the case on the charging pad surface or connecting to a charging source with the included Lightning cable.
When Transparency mode is on, AirPods Pro offer the same battery life as current AirPods, and Apple says you can expect up to five hours of listening or talk time. Turning on Active Noise Cancellation mode will reduce listening time to a maximum four and a half hours and talk time to a maximum of three and a half hours.
Apple will continue to sell the previous version of AirPods. The AirPods with Charging Case remain at $159 while the AirPods with Wireless Charging Case are $199 (the AirPods themselves are the same in both cases).