Mini PCs are becoming increasingly popular with each passing year, and not just because they are nowadays able to rival the computing power of traditional tower PCs. Often referred to as Next Unit of Computing (NUC) PCs by Intel, some of their benefits include portability and higher flexibility. As such, you can easily take the unit with you wherever you go, and of course, have an easier time transporting and setting it up if you're moving house. No wonder, as these diminutive devices can have a footprint of less than 100 x 100 mm.
(Image above: Intel NUC circuit board. Image: Intel Corp.)
But that's just the beginning, as modern mini PC technology is becoming more refined and powerful, with their cases able to accommodate innovative hardware such as the latest Intel processors and enough RAM to make multitasking and high-end gaming a breeze. Before you get your credit card out, though, let's take a look at some of the essential considerations that will help you make this your best purchase of 2019.
Build it Yourself or Buy a Finished Product?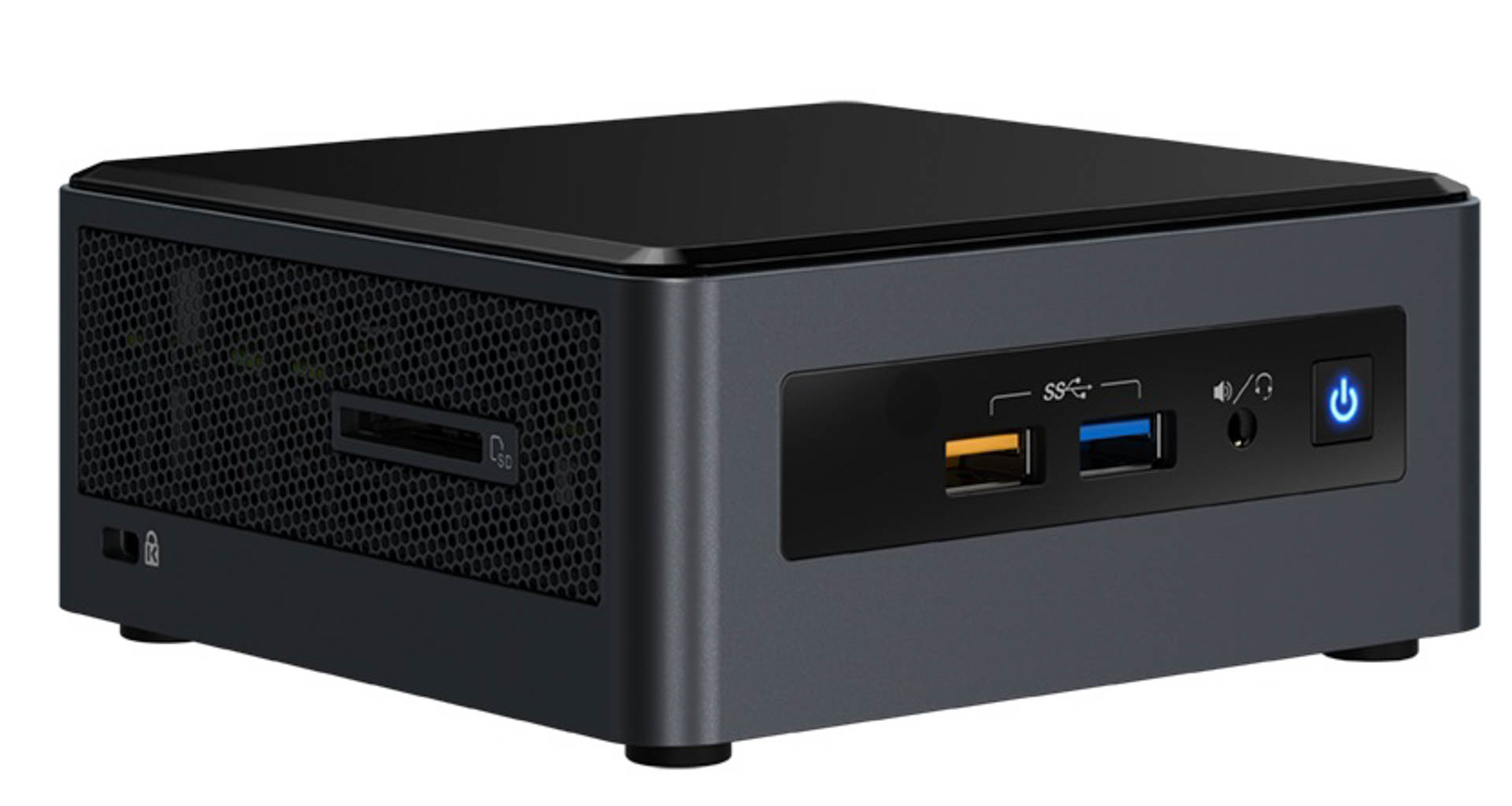 There are consumers that like to build their own rigs, and then there are those that want to buy a finished product that will be up and running in a matter of minutes. The mini PC market caters to both demographics, and you can choose according to your preference and level of PC-building experience.
Keep in mind that "bare-bone" mini PCs, although much cheaper than their ready-to-go counterparts, come only with the case, the motherboard, and the processor (Wi-Fi, Bluetooth, and USB ports are included on both models). This means that procuring and installing the RAM and the hard drive will fall on your shoulders. This is a good option if you want to reuse old PC parts, but make sure to check if they are compatible first.
Deciding on the CPU Manufacturer
AMD and Intel have been at war over the CPU throne for what seems like ages now, and when choosing a mini PC, picking the right brand from the start will be imperative. This is because you cannot replace the CPU as it comes integrated into the motherboard—you actually can do this yourself, but it will void the warranty. Be sure to research both options for this particular purpose, and pay special attention to laptop processors, as mini PCs use only this type of CPU.
Durability and Temperature Control
When you have a standard tower PC, you can easily optimize cooling and temperature control, and upgrade whenever you like with liquid cooling and additional fans. The same cannot be said for mini PCs, so you need to take the problem of temperature control and overall durability seriously before you invest.
A sound way to avoid a mini PC overheating or breaking down two months out of the box is to look for an industrial grade fanless PC that has no moving parts and has a high temperature threshold – at least 60°C in ambient temperature. These models will offer high reliability in all conditions, ensuring their longevity no matter how you use them.
Decide on the Hard Drive or SSD
The amount of storage in a PC is important, but with the birth of the high-powered SSD drives, the speed and performance of the hard drive must also be taken into account. Not long ago, HDD drives dominated the market, however SSDs are quickly becoming the preferential choice for those looking for unimpeded performance across the board.
That said, they do cost more. In regards to mini PCs, you can choose between two types: M.2 and 2.5-inch drives. While the M.2 is flash storage only, the 2.5 gives you the freedom to choose between HDD and SSD drives. If you're an SSD aficionado, though, there is no reason not to choose the M.2 option. 
A Note on Peripherals and RAM
Mini PCs don't come with peripherals, so you will need to obtain the right keyboard, monitor, speakers, and mouse. As long as your old peripherals are compatible with the mini PC you're considering, you're good to go. Always do your research beforehand, though.
A word of caution about RAM as well. Mini PCs support only laptop RAM, so you won't be able to stick your traditional RAM into this unit. What's more, the majority of mini PCs have only two RAM slots, so invest in the most powerful laptop RAM sticks to get the biggest bang for your buck.
Always Assess the Upgrade Potential
Lastly, always keep in mind the overall upgrade potential of your machine. Mini PCs are inherently powerful (depending how much you pay for them), and they typically have a long lifecycle, meaning that they can serve you for years to come. However, at some point you might find yourself wanting more processing power or a better graphics card. Make sure your unit allows such alterations before you buy.
Portable PCs are the way of the future, and as people are increasingly taking their favourite gadgets on the road with them, traditional tower PCs are becoming obsolete. If you're considering buying a mini PC this year, let these tips guide you towards the most cost-effective decision.