How much water did your household consume today? Yesterday? This week? This month? You probably don't know. Moreover, if you did know, what could you reasonably do about reducing your water footprint, and why would you care? Those are some of the questions connected home startup Pani Systems intends to answer with its first product, the Pani Smart Water Monitor. After using a bevy of Pani monitors for two weeks in a real-home scenario, we can attest they are making waves by giving us definitive answers to all of those water questions. Read on for our unboxing and in-depth review.
Pani Smart Water Monitor: What Is It?
Pani is a smart water monitoring device, designed for homeowner self-install on showers, toilets, and other fixtures inside the home that contribute to a majority of water consumption. In contrast to whole-home water monitors like the Phyn Smart Water Assistant intended to glean all water usage through a single monitoring device, Pani aims to precisely measure and monitor water usage on a single appliance.
This distributed nature means you will need to purchase a Pani device for every fixture you want to monitor. By doing so, you will benefit from real-time, highly accurate usage data for all participating fixtures, plus receive in-app coaching tips on how to reduce the amount of water consumed. Furthermore, through the weekly goal setting feature, you can use these tips to save more water, and in turn Pani will track those cumulative savings on the Impact tab and donate accordingly on your behalf to global water charity projects.
Pani Smart Water Monitor: Altruism Meets Technology
So what is the thinking behind Pani? To find out, we spent some time with Allen Tsai, the company's founder and CEO, at his offices in Austin, Texas. "Pani is the Hindi word for water," said Tsai as we unboxed one of the first production Pani units, which are also designed and manufactured in the Texas capital. "We'd like to think ourselves as becoming the Nest or Fitbit equivalent for smart water."
But simply helping homeowners save water with technology was not enough for Tsai, a veteran of multiple startups and tech firms. After a pilgrimage to Nepal to help install a water pipeline, his work to bring the basics of clean water and sanitation to a small village brought an epiphany. In Tsai's Medium post from 2018, you can see the genesis of what he refers to as "… thinking around how we can apply technology to reimagine the water infrastructure for both utilities and consumers." 
To make a long story short, this was much of the inspiration behind Pani and its in-app Impact features to enable donations on behalf of customers to water charities around the world as water is saved.
Pani Smart Water Monitor: How Many Do You Need?
We benefited from having creator Tsai personally spec out the optimum number of Pani units we needed for our test house. "You'll need two of our Smart Bathroom Packs," Tsai said, as we described our 2,300 SF, 2 1/2 bath home with its two showers, three toilets, and three adult residents. That's four Pani units total (two in each Smart Bathroom Pack, which will save you about $10 per unit over buying individual units).
The Pani website has a convenient wizard that programmatically determines how many devices you optimally need. In the case of our test house, using the web wizard delivered precisely the same recommendation as Tsai himself: four units.
Now, it's not necessary to install a Pani on every shower and toilet in your house on day one to begin saving water. You can start with one or two Pani units—installing them first in the bathroom that gets used the most—and then go on from there with more units as desired.
Pani Smart Water Monitor: Unboxing
What's inside the box? Of course, you get the Pani monitor itself, a 4-in. diameter, wheel-shaped device designed to install inline onto US-standard 1/2-in. and 3/8-in. fixture connections. The monitor housing, cover, and water line connections are molded from white polymer, while the housing cover has a silicone skin crafted in a light grey color. 
Once the cover is removed from the housing, a snap-in battery door is visible. A pair of AA batteries are pre-installed behind the door, and power the Wi-Fi radio and other electronics that comprise the Pani system. A recessed power switch and an LED indicator light reside on the bottom of the housing.
When peering through the Pani's water line connections, the magnetic impeller used to measure water flow is visible. It is rated for water flow ranging from 0.5 to 7 gallons per minute.
Beneath the main flap of the box, there is a 12-in. braided stainless steel water line with female 3/8-in. and male 1/2-in. connectors. This will typically be used when installing Pani on a toilet.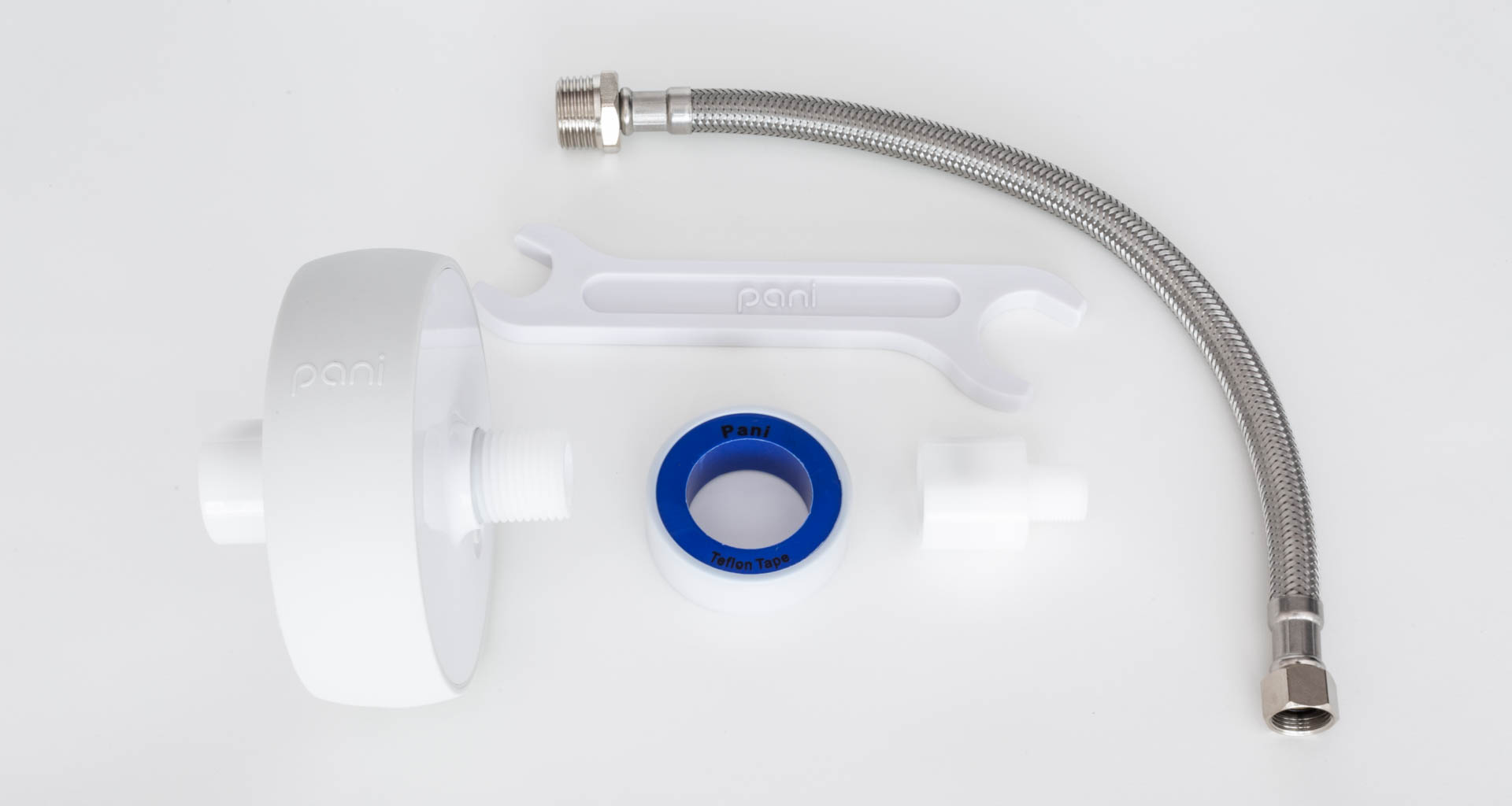 Also in the box is a 1/2-in. female to 3/8-in. male hose adapter, a roll of Teflon plumbing tape, and a Pani-branded spanner wrench made from plastic.
Pani Smart Water Monitor: Installation and Setup
Pani is designed for interior use only, primarily on showers and toilets. You could also install Pani under a sink that gets a lot of use, though it probably makes sense to install it on the cold water line only.
Most homeowners should be able to easily install Pani on their own, without the services of a plumber. The Pani kit includes everything needed for most installations, though you may need an adjustable wrench or pliers if any of your fixture fittings don't match up with the sizes covered by the Pani wrench.
There is no user manual, but the Pani app (available for both Apple iOS and Android devices) is well designed and gives precise, step-by-step illustrated instructions for installing on showers and toilets. Here's how that goes:
Pairing Pani With Your WI-Fi Network
In general, all installations begin with the following steps, initiated from the Pani app:
Selecting the type of fixture (shower, toilet, or other)
Removing the Pani cover
Tapping the power button
Scanning the unique QR code inside the housing with your smartphone
Temporarily joining the Pani's internal Wi-Fi network
Connecting to your home's Wi-Fi network (only 2.4 GHz networks are supported)
Naming the Pani (for example, Master Shower)
Replacing the Pani cover
Once these pairing steps are done, the Pani appears in the app and you can move on to installing the unit at your selected fixture.
Shower Installations
Shower installations are the simplest, usually taking five minutes or less. In this case, the Pani installs between the shower arm and the shower head. After removing the shower head and wrapping the threads of the Pani outlet with Teflon tape, the Pani is twisted into place on the shower arm. Then, the shower head is reattached to the outlet of the Pani, and all the connections are snugged up with the Pani wrench or pliers (be sure not to over-tighten them).
Toilet Installations
Toilet installations are a bit more complicated, but still quite easily accomplished. The Pani installs between the wall-mounted shut-off valve and toilet connector, using the supplied braided water hose and adapter plus the original hose.
These installs begin by turning the shut-off valve to the off position and flushing the toilet to empty the tank, then disconnecting the existing water line from the shut-off valve. The Pani water hose is then connected to the water valve and the input of the Pani, while the hose adapter is attached to the Pani output. The installation wraps up by attaching the original water hose to the hose adapter, then snugging up all of the connections and turning the water valve back on.
Learning Mode Kicks In
Once your Pani units are installed, they begin learning your water usage footprint. Typically, this takes from 7 to 10 days (our test environment took 8 days), and during this time the system is calculating average daily and weekly water metrics for every fixture, based on your actual usage. These baseline data will then be used to help Pani with suggesting water-conservation tips and to facilitate goal setting.
Pani Smart Water Monitor: Water Usage Monitoring Features
Monitoring real-time water usage is the essence of the Pani system. Once you begin using your Pani-connected fixtures, cumulative daily consumption will be enumerated on the opening Coach screen (see left screen in image below) in the center of the progress ring. The progress ring also indicates your success (blue ring) or failure (orange ring) toward achieving your water usage goal for the day.
A drop-down menu at the top of the screen also enables selecting your water usage metrics for Yesterday, This Week, This Month, or All Time.
Summarized or Fine-Grained Water Usage Metrics
Have you ever been dismayed by a smartphone app that never seems to give you the detailed data you need? Chances are you're not going to experience that with Pani. Want to know how many gallons your daughter used in her shower last Thursday, and how long it lasted? Pani can tell you that. Want to know how many times the toilet flushed in the guest bath this month and how much total water was used? Pani can tell you that. Want to know the average gallons used and average duration for all showers taken today? Pani can also tell you that.
In fact, Pani constructs a virtual, three-dimensional big data cube around water usage on your fixtures. Its ability to show summarized data by device type and time interval from the Usage tab is quite powerful (see the middle left, middle right, and right screens in the image above), and goes deeper to show individual devices, still deeper to show individual days, and deeper yet to show specifics on individual flushes or showers.
Furthermore, the value of these data go far beyond the numbers themselves. Pani translates these metrics into meaningful coaching and guidance to help you conserve more water.
Notifications
At the bottom on the Coach screen is a scrolling list of alerts, coaching tips, and general educational notifications from Pani. These are color-coded into various categories of information. For example, general coaching tips and usage metrics are colored blue, alerts and goal jeopardies are in orange, and informational items are in green.
These notifications can also be sent concurrently as OS-level notifications if you have them turned on from the Pani Settings panel, and also have them enabled for the Pani app in your mobile device settings. And for Apple Watch users, notifications can also be mirrored to the watch face.
Pani Smart Water Monitor: Goal Setting Features
The data Pani collects during its initial learning phase are applied when establishing a weekly baseline of water usage. These data can then be used for goal setting in Pani through the Edit my Goal button (on the Coach tab). The progression of blue screens used for goal setting are shown in the image above.
In our test case, Pani measured 344.4 gallons of usage during its 8-day learning phase, and suggested a weekly goal of 332 gallons. We then stretched the goal to 300 gallons by adjusting the weekly volume of each connected fixture through the on-screen controls.
The upside for setting goals and meeting or exceeding them can be three-fold. First, by lowering your weekly water usage, you are reducing your monthly utility bills for water and water treatment as well as lowering associated water heating costs. Secondly, you are reducing your household impact on the municipal water system and water sources, which can often be highly stressed during periods of extended drought. And lastly, your conservation measures will impact donations that Pani makes on your behalf to support global water charity projects.
And there may still be further upside. In the future, the Pani team is contemplating adding features where you could opt into local water saving initiatives and potentially receive rebates or credits on your water bill. This approach is similar to what Google Nest is already doing with their line of smart thermostats and the Rush Hour Rewards program, a partnership with local utility providers.
Pani Smart Water Monitor: Coaching and Impact Features
The coaching features in Pani are designed to help you reduce your water usage over time, by raising awareness of broader water issues, presenting tidbits of information about your own household water usage, and providing practical tips for helping you reach your water usage goals. We have to admit we did not know it takes 0.4 gallons of water to grow a single strawberry until Pani told us.
Ultimately, your personal conservation efforts—if you elect to participate—will be reflected on the Impact tab. The results are manifested by water projects such as the first one underway in Sikizana, Kenya. In our case, we've contributed a meager 3.4 gallons toward the 10,000-gallon goal for 100% funding of this project in our first week with Pani.
Pani Smart Water Monitor: Leakage Alerts
Currently, Pani can detect leakage events only when used on toilet fixtures (specifically, those fixtures set up by selecting the Toilet fixture type in the Pani app). According to the Pani engineering team, a toilet leakage event gets generated when a toilet is detected as running for five minutes or longer.
In order to test that, we simulated a leak by propping the flipper valve open on the device named Guest Bath Toilet. After 7 minutes and 44 seconds, we received an OS-level notification with the message "Running toilet detected." This also generated a full-screen "Running toilet" alert in the Pani app, an orange notification entry on the Coach screen, and we were able to see the event detailed on the Usage panel.
Pani says they are considering integrating leakage detection for other types of devices down the road. But for now, just toilets can benefit from that.
Pani Smart Water Monitor: What's Missing
While the Pani system works quite elegantly with a house-wide network of Pani smart water monitors and the iOS and Android apps, it is an island to itself. Currently, there is no integration with the preeminent connected home ecosystems, specifically Amazon Alexa, Apple HomeKit and Siri, and Google Assistant. The Pani engineering team is currently working on developing Alexa and Google Assistant voice activation skills, so look for those to make their way to the Pani system at some point in the near future. We would also like to see on-screen integration with smart displays, like the Google Nest hub.
Pani Smart Water Monitor: The Bottom Line
As management guru Peter Drucker famously said, you can't manage what you can't measure. That concept certainly applies to your home water system, as most homeowners have minimal insight into how water gets used beyond the meager data on their monthly water bill. The Pani Smart Water Monitor is an excellent entry point for understanding water usage through its real-time measurement down to the individual fixture, then helps manage a reduction in your water footprint through its intelligent coaching and goal setting features. And if that was not enough, Pani will donate on your behalf to global water charities as you exceed those goals.
We can highly recommend it.