It seems Amazon Alexa– and Google Assistant-compatible accessories steal the connected home headlines these days, yet products with Apple HomeKit compatibility are still widely popular and new HomeKit accessories continue to hit the market. But to get maximum return on your HomeKit investments, a HomeKit Home Hub is a must-have, since they enable remote out-of-home control of accessories, automations, and facilitate secure access for family members and other trusted individuals. So, where do you go to get one?
Apple does not make it easy to purchase a HomeKit Home Hub. In fact, there is no such standalone product available for purchase from Apple, nor from any other manufacturer. Rather, Apple has integrated Home Hub functionality into several mainstream products—including Apple TV, HomePod, and iPad, but you may need to configure a few settings to turn it on. Read on for specific how-to steps on all 3.
Before You Begin
You'll need to set up at least one home using the Apple Home app, and you'll want to add at least one HomeKit accessory before beginning with configuration of a Home Hub. For maximum compatibility, also be sure you are running the latest versions of iOS, tvOS, and macOS as applicable, and are logged into the same Apple ID and iCloud account on all devices you plan to use with HomeKit.
Apple also requires two-factor authentication be activated for the Apple ID you will use with iCloud, which is a highly recommended for greater security even if you don't plan to use HomeKit. They also stipulate iCloud Keychain be turned on.
Apple also supports multiple Home Hubs in the same home for redundancy, so go ahead and configure multiple devices if you have them. In our Digitized House Connected Home Integration Labs, we have 4 Home Hubs configured. HomeKit will automatically select one Home Hub as its primary "Connected" hub, while all others will be in standby mode—ready to assume control duties in the event the primary hub goes offline.
Check Latest Price:
Set up Apple TV as a Home Hub
Apple TV boxes beyond the 2nd Generation can be used as Home Hubs, so that includes Apple TV 4K, Apple TV HD (recently renamed from its previous moniker of Apple TV 4th Generation), and of course Apple TV 3rd Generation. If you're not sure which version of Apple TV you have, you can check here.
Be aware Apple TV 3rd Generation as a Home Hub does have some limitations, including lack of remote access for shared users and does not include remote access to HomeKit-compatible cameras.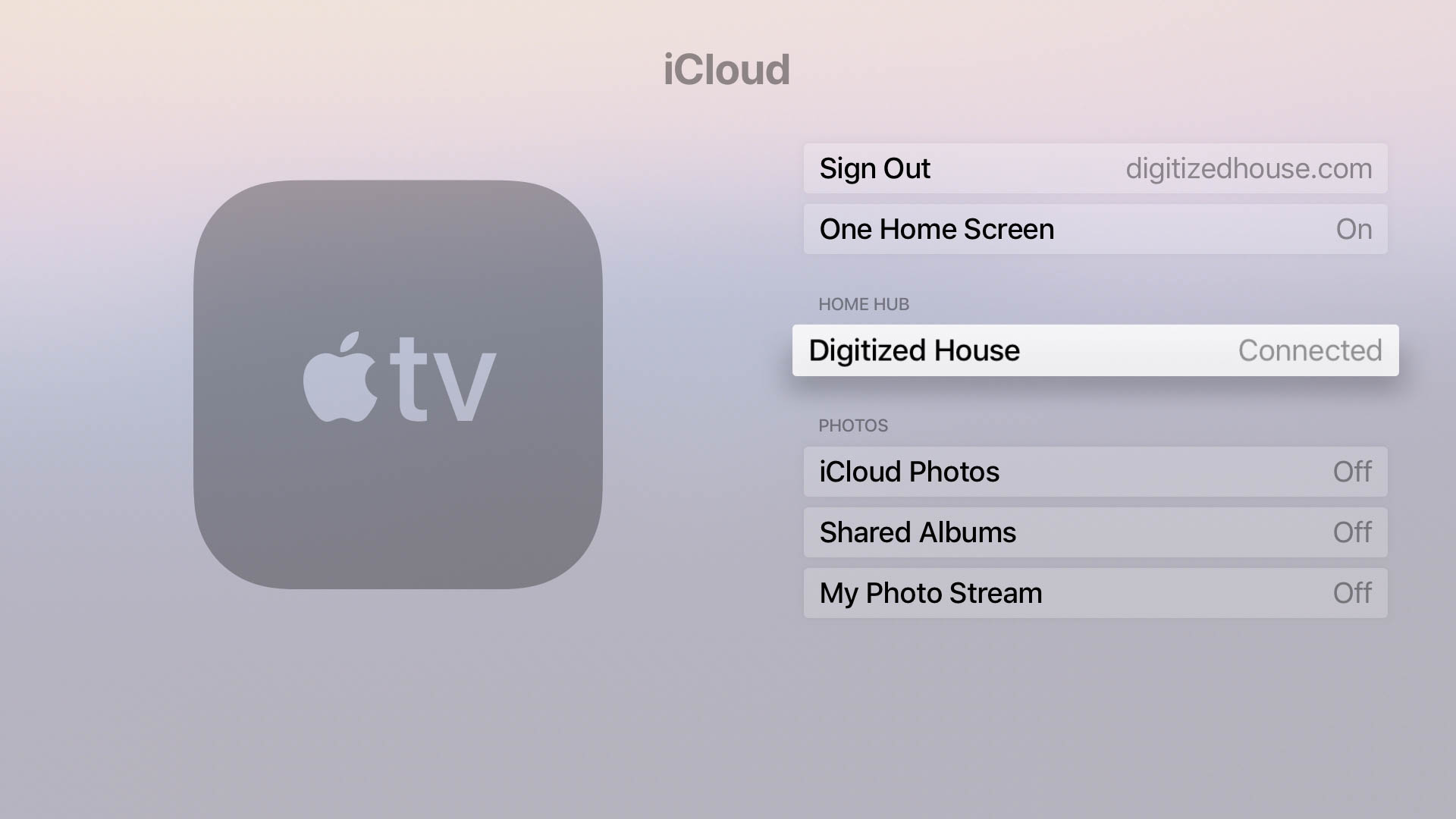 To set up Apple TV as a Home Hub:
[1] From Apple TV, tap the Settings app, then Accounts;
[2] In the APPLE ID section, select iCloud, and log into the same iCloud account you are using on iOS;
[3] Once you are logged into iCloud, Apple TV will automatically configure itself to be a Home Hub.
Expect to wait several minutes for the Home Hub configuration to complete. In some cases, we have found the Apple TV needs to be restarted before the Home Hub configuration appears.
To check to see if the setup was successful, return to the Settings app, then tap Accounts > iCloud. You should see a new HOME HUB section on the page, with the name of your HomeKit home displayed and a status of "Connected." To turn off Home Hub for this Apple TV, tap the name to toggle it into "Disabled" status.
Set up HomePod as a Home Hub
If you count yourself among the Apple users with an existing HomePod, your work should already be done. The only Apple smart speaker automatically sets itself up as a Home Hub as you install it in your home.
In cases where your HomePod does not seem to be running as a Home Hub, check to be sure you are logged into the correct iCloud account.
Set up iPad as a Home Hub
Most iPads can be used as a Home Hub, with the caveat they must be left in the home at all times and be plugged in. We set up Home Hub on an iPad Pro 12.9 (2017), as depicted in the image at the top of this page. (Yes, that is an iPad Pro 12.9 fitted with a full keyboard—we are currently testing the Brydge 12.9 keyboard.)
To set up an iPad as a Home Hub:
[1] From the iPad Settings app, sign into iCloud with the same Apple ID you are using with HomeKit (this is done through the Apple ID tab at the top left of the Settings screen);
[2] Once you are logged in with your Apple ID, tap Settings > Apple ID > iCloud and toggle the Home app and Keychain to the On setting;
[3] Tap Settings > Home, then toggle "Use this iPad as a Home Hub" to the On setting.
Confirm Home Hub Setup
To confirm your Home Hub is running, launch the Home app on iOS and tap the small Home icon on the upper left. Then tap Home Settings and select the desired home. You should see a HOME HUBS section, with all of the Home Hubs listed.
You can also check Home Hub setup from macOS Mojave or higher. Launch the Home app, select Edit > Edit Home, then select the desired home. Again, you should see a HOME HUBS section, with all of the Home Hubs listed.
Congratulations! Your Apple HomeKit Home Hubs are ready to go to work for you. To begin taking advantage of them, tap the Automations tab and configure your first robot. Or, walk down the street with your iPhone in hand, and remotely control an accessory or two from the Home app.
More About This Topic: