Technology is probably one of the best additions in any modern household, especially when you use it to make your living environment more comfortable, safer, and to create that unique aesthetic that will make you fall back in love with your home. Now, while most of us think of new ways to add a smart appliance here and a programmable lighting fixture there, you should take a step outside and ask yourself what you can do to make your outdoor living environment more appealing and functional.
Chances are that you simply don't have enough technology in your backyard, which is a crying shame because it can really transform and rejuvenate your outdoor space, not to mention that it can make outdoor living more energy-efficient and functional across the board. So, let's take a closer look at the five tech trends you should consider to breathe new life into your backyard.
1. Add a Tech-Infused Spa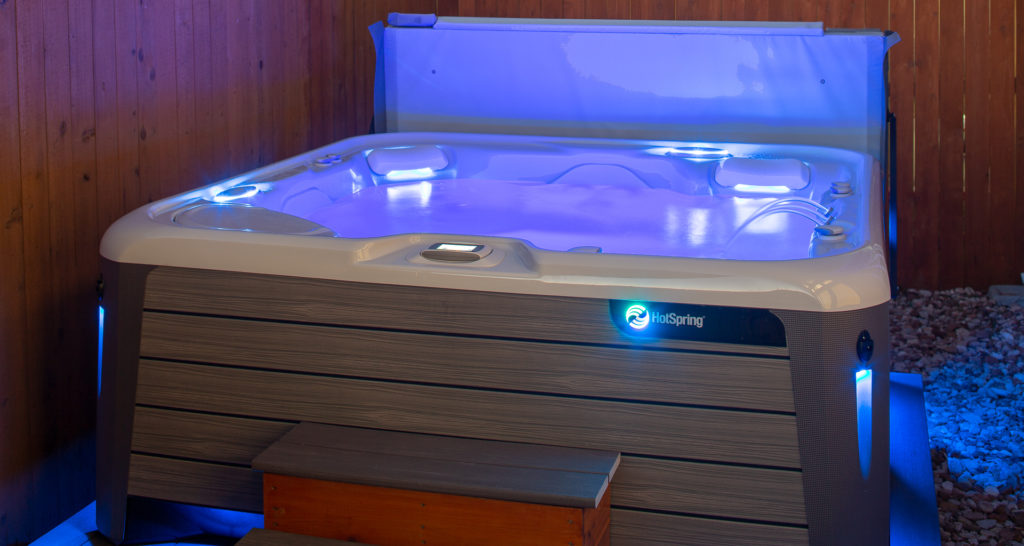 A spa is one of the best additions to any backyard space, especially if you love nothing more than to lounge about on your backyard patio when the weather is pleasant and you can feel a smooth breeze whisking your troubles away. Now imagine lounging in your very own backyard spa that doesn't consume as much space as a pool (and is therefore cheaper and easier to install, and is much more energy efficient) and offers many wonderful features that enhance comfort and functionality. You may also be surprised to see how far these spas have come since the so-called hot tubs of the past.
For example, you can get the latest spas fitted with luxury features like aromatherapy and IoT-friendly jets that you can control with a dedicated smartphone app. You can also use the app to set the temperature of the water just right before you get in, or if you want to transition from warm to cool during your siesta. Add some aesthetic ambient lighting and you have yourself an amazing backyard spa.
2. Introduce Smart Lighting
Speaking of lighting, it's one of the essential elements of modern home design, and even though you can install smart lighting and control your Philips Hue lights via an Apple TV app, keep in mind that exterior lighting can be smart as well. After all, why should the interior be more classy and tech-driven than the exterior? Nowadays, you can find smart lighting manufacturers that produce exterior lighting that you can control with apps and remotes, with your voice, or even hand gestures if you so wish.
However, it's not just about the functionality of smart exterior lighting, it's about its scalability. You can use smart lights to set the mood in your backyard for every occasion, be it a dinner party on the patio with your friends or a romantic night for two under the stars. LED smart lights are energy-efficient and long-lasting, making them the perfect choice if you're on a budget and want to maximize your investment. 
3. Bring an Outdoor Entertainment Area to Life
Of course, if you want to make your backyard functional and appealing to your family, friends, and most importantly, yourself, then you need to introduce a comprehensive outdoor entertainment system that you can use for outdoor parties, movie nights under the open sky, romantic dinners with your significant other, and any other occasion. With a weather-resistant entertainment system in your backyard, your outdoor space will definitely become the favorite part of your home.
To create an entertainment center that everyone will love, you will need an anti-glare HD TV, a surround sound system, the aforementioned smart lighting, and of course, you have to make sure that all of these devices have remote control functionalities. Ideally, you will be able to control all devices via smartphone or voice command, so that you don't have to get up when you're comfy with a bag of popcorn in your lap. 
4. Grow a Prize-Winning Garden With IoT Technology
Speaking of devices that you can control remotely via smartphone or voice, keep in mind that IoT technology is the future, helping you run an efficient household while elevating safety and security for the entire property—more on that in a bit. Now, we talked about many IoT friendly-devices you can add for entertainment purposes, but what if you want to grow a luscious and dazzling backyard garden? 
Well, technology is the solution for that as well, especially if you have no idea what you're doing. For example, you can introduce a smart garden sensor to your soil beds to automatically monitor the state of the soil, including numerous crucial factors such as temperature, pH, moisture levels, and nutrients. Then, use the connected app to analyze that data and derive the best solutions to growing a flower or vegetable garden that will not only look good, but might as well win some prizes! You can also use smart watering technology in the garden to apply just the amount of water to your prized plants.
5. Don't Forget About Safety Tech
Last but not least, while you should use technology to make your backyard more aesthetically pleasing and comfortable, keep in mind that nothing creates comfort and tranquility like a deep sense of safety. With that in mind, be sure to add some tech-driven safety features to your backyard like security cameras, a voice-operated emergency system, and smart locks for your backyard doors and windows. If you want to take safety a step further, you can also lock your smart appliances with a passcode, making it impossible for your kids to turn them on while they're playing in the backyard.
Wrapping Up
Technology makes modern living a little less stressful and a lot more comfortable, so why not introduce it into your outdoor living space as well? With these tips and trends in mind, you should have no problem rejuvenating your backyard and creating a tech oasis that the entire family will love.